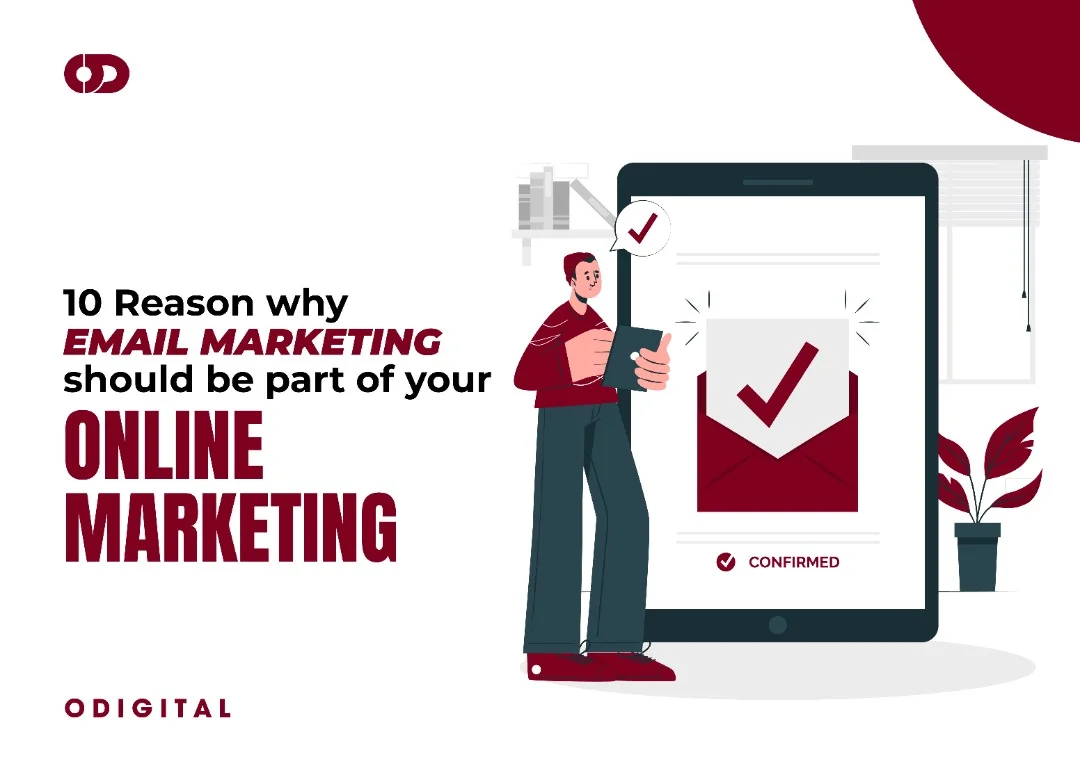 Digital Marketing
Top 10 Reasons Email Marketing Should Be Part Of Your Online Marketing Strategies
brandEmail Marketing is the use of email communication to build customer loyalty and brand awareness. This method of marketing is highly effective for communication with both existing and potential customers as it helps you reach the bulk of your target audience without the need to spend so much from your marketing budget. A great way to use email marketing is to create segmented and personalized emails to specific people on your email list. You could create these emails based on determining factors like customer demographics (likes, age), spending habits, etc. Another reason why this strategy should be a part of for your digital marketing strategies is because of how easy it is to use email marketing.
Keep reading for the top 10 reasons email marketing is important, complete with mind blowing email marketing statistics that should clear any doubts you may have.
Engagement
Email is one of the oldest forms of online communication and it still remains one of the most important. Email providers have made engagement with email (replying, forwarding, click-through, etc.) much easier for users.
According to McKinsey, email is almost 40 times more effective than Facebook and Twitter for acquiring new customers. By employing email marketing strategies, you can drive traffic to your website and improve conversion.
Deliverability
Businesses are turning to social media marketing to fulfil more of their marketing needs. Although social media marketing is necessary, email marketing offers a higher guarantee that your messages would deliver to your target audience. According to Radicati, messages are 5x more likely to be seen in email than via Facebook.
Boost Brand Awareness
Targeted and personalized emails keep your target audience (potential) informed about your business. Using emails, you can keep your customers in the loop by feeding them information about changes, deals, discounts etc. Opening an email app and seeing a personalized email from your business can get your customers feeling like you're thinking of them, that way, you are at the forefront of their minds.
According to 80% of professionals, email marketing drives customer acquisition and retention (eMarketer).
Reach Customers in Real-time
According to Litmus, 54% of emails were opened on a mobile device. This is a necessary feature for and digital marketing strategy. Personalized emails received on mobile drive higher conversion rates and more engagement than other mediums.
Effectively Tackles All Stages of Buying
Email Marketing is so effective because it addresses customers at all stages of the buying process whether enquiry, deliberation, or acquisition. 59% of respondents say marketing emails influence their purchase decisions. Email can notify, advise, persuade, and appreciate.
By using follow-up emails, you can encourage a potential client to use your products or services.
Email Marketing is Measurable
Email reaches about 85% of the people you send it to (inbox placement rate) and has an open rate of almost 23% (OptinMonster).
With most email marketing tools, you can track click-through rates, open rates, delivery rates, etc. This way, you can gain insights into your customer's behaviours and interests and alter your existing campaign to suit your target audience and your goals.
Email Marketing Is Targeted
Can email marketing target a specific audience? Yes it can!
Using segmentation based on demographics, location, etc., you can create targeted emails that are tailored to suit the needs and interests of a specific audience or customer. This is a great way to increase conversion rates. The more targeted your emails are to your audience segments, the better your campaign performance (MailChimp).
Cost-effective
Email marketing offers an average return of $42 for every $1 spent (Litmus). The cost of implementing email marketing would require only an average of 20% of your entire marketing budget. With free plans and paid plans starting from $10, it offers the flexibility to pick whatever plans fit your marketing budget.
Conversion
A survey conducted by Monetate, shows that 4.24% of visitors from email marketing buy something as compared to 2.49% of visitors from search engines and 0.59% from social media.
Well-designed, personalized email campaigns promoting products, services, offers, and deals that go straight to the subscriber's inbox would generate an average click-through rate of around 3% of total recipients.
Email is Universal
According to HubSpot's 2020 email marketing statistics, there are 3.9 billion daily email users. With such a great reach, there is more reason to add email marketing to your business's digital marketing arsenal. With email, you can easily communicate with your customers, providing them with recent information about your services, discounts, etc.
Email Marketing Platforms
Also referred to as email service providers (ESP), email marketing platforms are tools that help you create and carry out email campaigns. The email marketing platform you choose to use for your business can affect the success of your marketing campaigns. Since your email marketing tool determines the deliverability rates of your emails, (when, if, and how your emails get delivered to your customers) this is not a trifle decision.
When picking an email marketing platform, look out for the following features;
1. The platform features such as easy user interface, drag-and-drop editor, responsive forms and landing pages.
2. Email creation and delivery (your email marketing platform should ensure that your campaigns do not end up in the spam folder).
3. Email marketing automation and segmentation.
4. Reporting and analytics.
5. Great plans.
6. Great customer support.
Now, let's look at the top email marketing platforms. The brands mentioned in this section check all the boxes above and offer some type of free plan so, if you're looking to try out any of them before making a commitment, these are the top free email marketing platforms.
Would you like to know how cheap email marketing is? Read on.
Constant Contact
This software is best for small businesses because it is the best beginner-friendly email marketing platform. It offers a 60-day free trial (no credit card required) for 100 contacts with access to unlimited emails, easy tracking and reporting tools, built-in social media sharing tools, mobile-responsive templates, free image library, list segmentation, Facebook ads integration, etc.
Once the 60 days are up, you can pay for their services with pricing as low as $20/month for 500 contacts. The paid plans offer other cool services like; drip campaigns, email automation, and subject line A/B testing which helps you send targeted emails to maximize your open rate, etc.
Best of all, this platform offers great customer support via live chat, phone calls, email, community support, and a vast library for beginners.
Constant Contact has a rating of 91.5% in terms of the deliverability rate
Sendinblue
This is a top email marketing platform and it is great for both email and SMS marketing and offers a completely free email marketing plan (no credit card required) that lets you send up to 300 emails per day for unlimited contacts. This free plan comes with email campaigns, SMS marketing, email templates, email & SMS personalization, advanced segmentation. The catch is that all your emails will have their branding, but if that's okay with you, then you're ready.
Their paid plans start from $25 per month for the "Lite Package" with 10,000 emails, no daily limit, optional A/B testing and other perks. Sendinblue 96.3% in terms of the deliverability rate.
Drip
This email marketing service targets e-commerce platforms. The service offers a 14-day free trial (no credit card required) which includes all their features except SMS and MMS. These features include revenue and engagement reporting, A/B split testing, and a great support system (live chat support, webinars, automation training, detailed courses, free guides and excellent documentation).
They offer only one paid plan that costs $19 monthly with an option to add SMS or MMS at a rate of $15 or per 1000, respectively. Drip has a rating of 87.9% in terms of the deliverability rate.
Aweber
One of the oldest and most popular email marketing platforms, Aweber offers a completely free but limited plan for up to 500 subscribers. This service was designed for small businesses. The free plan offers unlimited landing pages templates, segmentations, email automation, analysis and reporting.
Support is via live chat, phone, email, live webinars and a vast library of tutorials. Aweber has a rating of 91.6% in terms of the deliverability rate.
GetResponse
One of the best email marketing platforms that offer email marketing services and a great user interface for small businesses, Get Response offers a 30-day free trial (no credit card required) that includes substantial marketing automation tools that allow you to create automated campaigns. It is equipped with responsive forms, unlimited landing pages, a drag-and-drop builder, autoresponders, unlimited automation templates, A/B testing segmentation and more.
The company offers support via phone, live chat, email and also provides free learning materials like videos, webinars, guides, etc. Pricing starts from $15 monthly for 1000 contacts. GetResponse has a rating of 83.8% in terms of the deliverability rate.
MailChimp
One of the more popular email marketing platforms, MailChimp offers a free plan (no time frame) which gives 2,000 contacts, a daily limit of
2,000 and emails 10,000 sends per month. The free plan comes with basic email marketing features like email creation and scheduling, 1-step automation, Facebook ads and valuable audience insights for marketing optimization. However, this free plan gives limited access to cool features
like advanced segmentation, send-time optimization, and offers support for only the first 30 days. They provide support via chat, email and phone.
Pricing starts at $9.99 monthly for up to 500 contacts and up to 50,000 emails (it increases for every 500 subscribers). MailChimp has a rating of
86.9% in terms of the deliverability rate.
HubSpot
One of the top free email marketing platforms, HubSpot offers a completely free email marketing tool that is great for small businesses. This tool has cool features like responsive forms and landing pages, segmentation, full team visibility and so much more. This tool has no limitations, so you can use it for as many contacts as possible.
HubSpot has a rating of 91.6% in terms of the deliverability rate. For support, they granted users access to the HubSpot Community at community.hubspot.com.
Conclusion
Email marketing is one of the easiest and most effective forms of online marketing. With personalization, segmentation, and automation features, and great deliverability rates, email marketing wins everytime.
The best part is that your audience already has an interest in your business (they surrendered their email addresses themselves) so, you are certain your marketing is reaching the right audience.