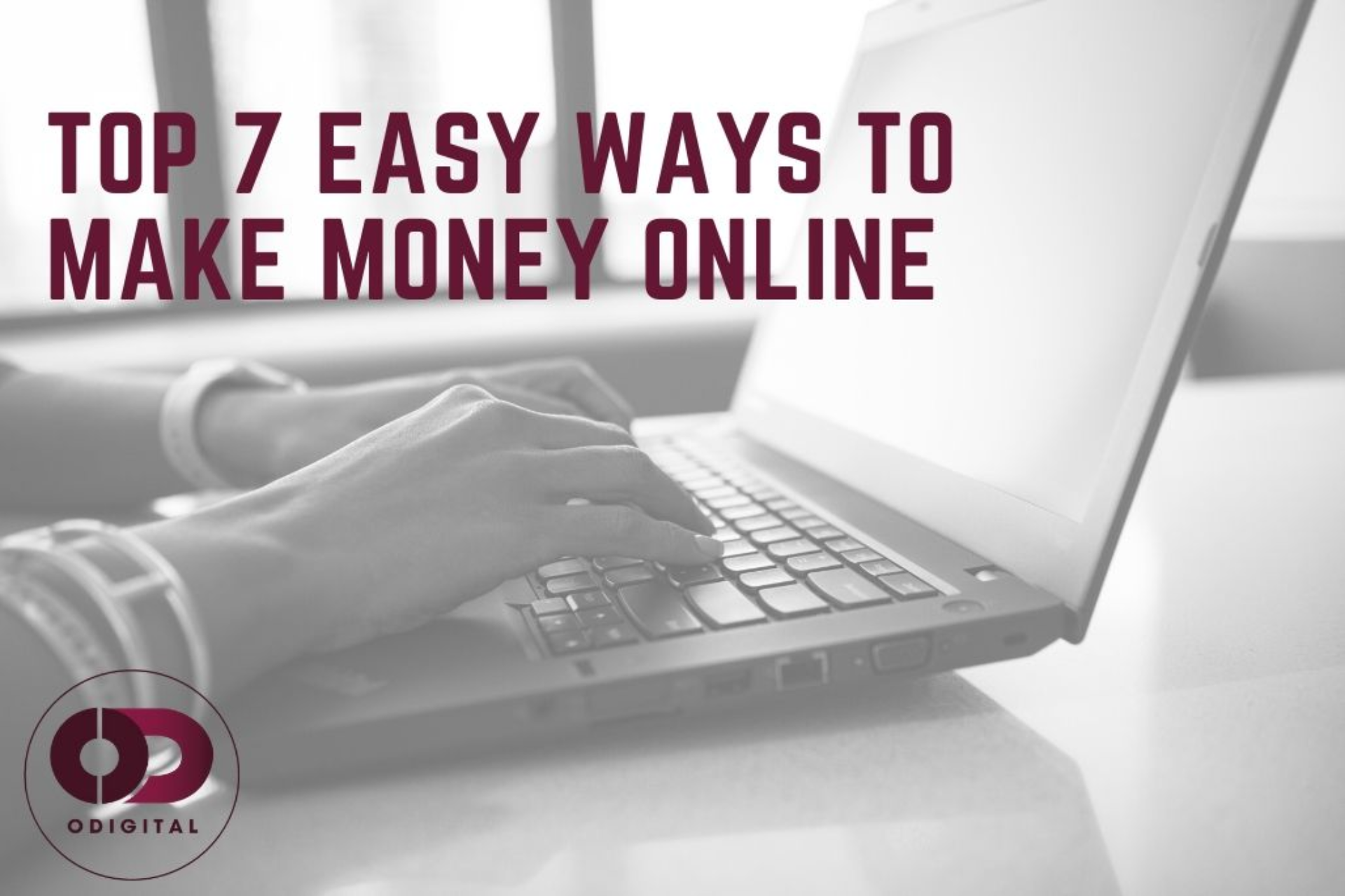 Business
Top 7 Easy Ways to Make Money Online (Ways To earn Money Online)
Everyone can start a business. Sometimes, however, you don't know exactly what you could do.
There are so many different ways in which you can make money online these days, so we would like to share a couple of ideas which we think are good and also give you a few tips on how to start each one.
Number 1 way to make money Online
1. Sell Courses Online
Top 7 Easy Ways to Make Money Online (Ways To earn Money Online) 1
There's a big movement towards self-education and people learning things online rather than going through the traditional route of going through school to college or university, and then getting a job.
These days, people want to learn more specific things rather than learning a big broad subject. A lot of people are starting to realise that you could pay lots of money in school to learn something that might not even guarantee you a job in the end.
So, selling courses online, even if you haven't built up a big audience, could make you some good passive income.
This can be easy as well because all you need to do is to create a course on something that you're interested in.
You could write a short video script, edit it, and film it in around three to five days. Now, that might sound like a very quick amount of time, but we've made plenty of courses and believe us when we say, this is possible.
Now that you've created courses, the next question is, where would you sell them? Well, there are a few different online money making sites to sell your courses
ways you can do this:
Sell them on your website- You can get a Shopify or WordPress website sign-up for about twenty-nine dollars a month, and you can sell them on there as a digital download.
Sell them on online course marketplaces- below are online money making sites where you can sell your courses:
Udemy is a fantastic training site which is dedicated to hosting courses for a small fee per month. and you can get paid thousands of dollars when people take your courses
Skillshare Available for Web, Android, iOS, this is a platform for teaching creative skills.
Teachable this platform is available for Web, iOS and its best for teaching marketing your course
Ruzuku Available Web and this platform is good for hosting webinars
Thinkific This Online Money Making platform is a good place for all kinds of online courses
Learnworlds This platform is available on Web, Android, iOS and its best for creating an online school
WizIQ is available for Web, Android, iOS and you can use it to set up a virtual classroom
youtube you can create free video courses on youtube and share to everyone to get make your brand popular and then use it to upsell your premium course.
So, pick out your niche, take time out to come up with different options and ideas, structure them out, and then sit down and make the videos.
Now, they don't have to be the absolute best videos, neither do you have to have the best lighting equipment or camera, people generally just want to gain some information, and if you like that kind of topic or if it's kind of your hobby and something you like to talk about.
You can just sit down and tell people all about it and people will be happy to pay for it and learn more in a short hour (or two) than they would in all their time in a university or college.
The game is changing in the education space, so if you do have something that you're passionate about, you can create a course and sell for some good bucks.
Number 2 way to make money Online
2. Affiliate Marketing
Make-Money-Online-with-affiliate-marketing
Top Affiliate Online Money Making Sites Include:
Fiverr Affiliate Program: here you get paid to drive traffic to fiver gigs, its very easy to join and you get paid per conversion.
ClickFunnel Affiliate Program: here you are paid to promote clickfunnels owned by Russel Brunson, you earn up to 40% recurrent
ClickBank: On this affiliate money-making site, you are paid a commission when you promote products that are launched on their marketplace. you ear recurring commissions that are as high as 70%. they do not accept people based in Nigeria but Click Here to learn how to signup to Clickbank even though you reside in Nigeria
JVzoo: this platform lets you promote products that are launched by vendors. most of the products are marketing and make money online based products. the commissions are high and often recurring
Amazon Affiliate Program: Amazon is one of the biggest affiliate marketing websites in the world the program is called Amazon Associates and let's say, for example, you have a Youtube channel about photography, and you did a review about a camera on the Amazon website and got about 50,000 views, and you put a link to the camera in the description box below your video review when people click on that link and end up buying that camera, you get a 4% Commission on the price of the camera.
CLICK HERE TO LEARN HOW TO MAKE MONEY ONLINE WITH AFFILIATE MARKETING
So, if that camera costs $1,000 you've made $40 instantly. Also, whatever they buy in the next 24 hours after clicking your link, you'll get a commission on them as well.
So let's say they buy the camera or don't even end up buying the camera but they end up buying a pair of shoes, camera lens or even a baby stroller, you'll end up making some good money.
This is how affiliate marketing works, and it can be a really good source of passive income where you do a little bit of work upfront, like blog posts, Twitter posts or Instagram posts, and money keeps on rolling in.
Some people might not see your review until a year or two later, and you'll still be getting commissions anytime they click on the link and buy.
Amazon's one of the biggest players in the affiliate field with their Amazon Associates but you can also look at sites like Shopify, who has an affiliate program where you can earn money for everyone who signs up, or Bluehost, which is a website hosting service with a really popular affiliate program.
Number 3 way to make money Online
Sell on Etsy
Etsy is one of the largest websites where you can sell pretty much anything that you've made or designed. It's a really big website for people who like to do crafts and handmade things, so if you're into designing or you're good with your hands, Etsy is a fantastic way to earn money from your crafts.
It's a great platform and it's very popular with women so if that's your market, you could start by looking on Etsy and see what's popular and what people are buying.
The great thing about Etsy is that they do pretty much all of the marketing for you, you don't have to do any kind of external advertising because there are people there already.
Etsy's platform works quite well and they're good with their payments.
Number 4 way to make money Online
Create your E-commerce website
Alternatively, you can create your e-commerce website with Shopify and sell your products there this is a very sure way to make money online.
It's really easy to set up and you can upload your photos for your products and have your website up and running in about 20 minutes.
Some reasons why you might want to start your business on something like Shopify rather than Etsy include:
Etsy is going to take a percentage of profits because you're on their website
With Shopify, you can get the email addresses of the people who are buying from you or visiting your website whereas with Etsy you can't contact your customers that much after they've purchased from you.
If you want to build a really big brand or you want to be able to customize your website a fair bit and have your custom domain name, Shopify is going to be a better way.
The best thing about Shopify is that they let you have a 14-day free trial so you can go in and do absolutely everything you need to do and test it out before you pay anything.
Number 5 way to make money Online
Become a Social Media Consultant
If you're good with social media; Instagram, Pinterest, YouTube, Snapchat, etc. and to become a social media consultant and make money from it is free, you don't need to pay any money to make money online this way
You should take a look at being a social media consultant and helping people out with their social media.
A lot of the older people or the older generation still aren't that good with social media and don't understand just how massive social media is these days.
A lot of companies still aren't even using a proper website and don't have a proper Instagram or Facebook page and are missing out on a lot of traffic and a lot of new eyeballs onto their business. So, you could provide a great service to them.
You could walk up to one of such companies and say, "Hey, I'll post on your social media for you and I'll manage your social media and I'll charge you ten thousand Naira a month." This might sound like a lot of money, but they will do that because they don't have a great idea on how to use social media, and not only that, they don't have the time to be constantly posting things on social media.
Imagine if you end up getting maybe 10 clients at #10000 a month, that's #100,000 a month and all you need to do is post a few photos and videos on the social media.
Number 6 way to earn money Online
Starting a YouTube Channel
There are so many ways in which you can make money online off Youtube but the best way is to just get started. Now, it seems like a very saturated platform these days but that doesn't matter because so many people are watching YouTube every day.
You can talk about what your hobbies are and the things you have a lot of knowledge about.
It doesn't matter if it's a small topic because if you like it, there's probably going to be at least thousands of people in the world who like it as well and they're looking for content to watch about it.
It's a great way to build a bit of a platform especially if you want to sell your products on Etsy or your Shopify website. You could also put links to different websites and get an affiliate commission.
Number 7 way to make money Online
Freelance on Upwork.com
If you don't want to create your brand but you still want to work and make money online, you should look at working on upwork.com. You could sign up as a freelancer if you're good at writing, copywriting or some other skill like.
You just need to put your profile up there and indicate how much you would charge per hour. It's a great way of finding a little bit of work for what you're specialized in like writing, virtual assisting or even accounting.