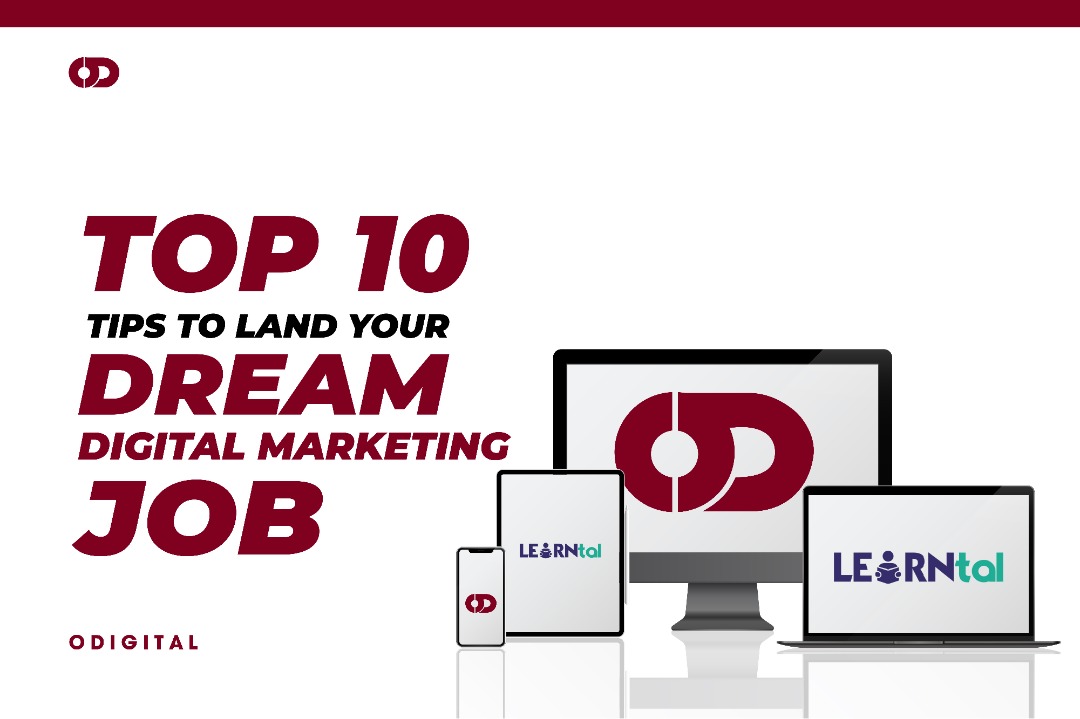 Powered by innovation in the digital advertising realm, the global marketing industry is experiencing extraordinary growth.
In fact, experts predict that while the market was worth $8 billion (£6 Billion) in 2018, that number will skyrocket to $11.8 billion (£9 Billion) by 2023, at a compound annual growth rate (CAGR) of 8%.
There's never been a better time to pursue a career in marketing, but with so many people asking for a piece of the pie, you will automatically be up against some tough competition.
In your quest to find the perfect marketing job, it helps to have a little insider knowledge. So, today, we're sharing our top 10 tips for standing out and getting noticed to land that dream job in digital marketing.
Create an Online Presence
Especially if digital marketing is your forte. It's wise to establish a corner of the internet for yourself before applying for jobs in this field.
The reason for this is twofold: First, it helps recruiters find you easier.
In the modern Google era, members of the hiring team will search for your name upon receiving your application and if all they hear are crickets, they could pass you by in favor of someone with at least a basic social media profile.
Secondly, it helps you show off your work.
If you have helped a few clients in setting up their websites, kickstart their outreach campaigns, or rebrand their logo? Make sure potential hirers can see the evidence of your efforts.
Using a free hosting platform, create a simple, self-titled website that showcases your best recent projects. Include a link to the site in your CV, and carry a tablet and zip drive into your interview so you can pull it up for the whole team.
To establish your authority and thought leadership in the space, you can also write a digital marketing blog for your website. Then link it to your social media channels and update it frequently to grow your following and reliability at the same time.
Have Certified Digital Marketing Qualifications
While there is no definitive set route to becoming a digital marketer or landing your first job in the field, most employers will want to see that you've validated your skills by successfully completing an industry-recognized introductory digital marketing course.
By doing so, not only will you earn the fundamental skills, knowledge base, and confidence you need to embark on a rewarding career in digital marketing - and actually be of use in the workplace - but you'll also obtain a working understanding of the key principles or areas that make up the vast majority of digital marketing jobs.
By taking on a more advanced digital marketing course or a qualification that focuses on a specific area of digital marketing, you will increase your levels of employability while opening yourself up to more potential brands or businesses looking for skilled upstarts to push their promotional efforts forward.
Luckily this is something we provide at Odigitial academy. We groom our students with the necessary skills needed to have an excellent career as a digital marketer.
Know Where to Look
Still, searching for business marketing jobs in the classifieds section of your newspaper? You'll search for a while.
Instead, familiarise yourself with online job boards that make it a cinch to find openings that match your skillset. Here, you'll enter your keywords (digital marketing, social media manager, marketing specialist, etc.) along with your location. Then, you'll see a list of opportunities that fit the bill.
The best search platforms show you a snippet of each job description, along with the location and date posted, to help you sort through the options. You can also refine the search results by specific roles, job type, salary range, and location. Knowing where to look takes 50% out of the job search process, streamlining it jobs that will work for you.
Dust Off Your CV
This is a no-brainer. You want a job, you need to have a good CV.
You already know a CV is a must if you're looking to begin a marketing career path or any job for that matter. Yet, did you realize you don't have to stick to the one-page, black font on white paper, Times New Roman format?
While you don't want to crowd your CV with distracting graphics and over-the-top design elements, understand that this space is indicative of your style. Play around with different formats, including a two-column look, to land yours on the top of the pile.
Then, take a second look at the language you're using to describe your experience. Prioritize action words such as "spearheaded" "led" and "managed" to describe the various roles you've played, rather than listing your duties off in a bulleted list.
If you have a link to your online portfolio, add it at the top, along with ones that lead readers to various digital projects you've completed. Also, don't discount any marketing-related education you've received. Especially if you don't have much professional experience under your belt. Courses in graphic design, public relations, advertising, and business management look great on your CV.
Network, Network, Network
At its core, marketing is a social job. It's a forward-facing position that requires excellent communication skills and a knack for drawing the details out of people.
To this end, connect yourself with people who have been in your shoes and succeeded.
Find a mentor at the company you want to work at and apply for an unpaid internship to get your foot in the door. Volunteer to help work an outreach event and run elbows with some of your local marketing elite. Attend professional meet-up groups and mixers and collect business cards at every opportunity.
You can even expand your pool of resources by going online. From LinkedIn groups to Twitter, the opportunities for connection and education are endless. Plug into a niche and then join the virtual dialogue.
When you're ready to apply for a full-time position, it helps to have someone on the inside who already knows your worth. If you invest in widening your connections and making your presence known in your community, your reputation will precede you in the best way.
At our academy, we already have an established network and a tight-nit community of digital marketers that are professional and successful in their business and will help and guide you through the path of becoming a successful digital marketer.
Learn Advanced Data Analytics
In a world where anyone can use Photoshop and related tools to create slick-looking brochures and online campaigns, how will you set yourself apart? One way is to bring advanced knowledge of data analytics to the table.
Thanks to the Internet of Things (IoT), our devices are more connected than ever before. As such, one person could interact with a single marketing campaign in dozens of ways, from a smartphone to a desktop to a tablet.
What's happening at every touchpoint? How are customers accessing the data? What times are peak periods for online traffic?
While there is software available today that tracks these metrics, agencies need someone who can make sense of all the outputs. It's called Big Data for a reason, and if you're able to spin patterns and trends into actionable forecasts, you'll render yourself invaluable.
Be Willing to Start Small
Unless you have an advanced marketing degree and years of experience, it's unlikely that you'll land that coveted marketing manager job on your first try, and that's OK.
Instead, use this time to build up your CV. Even if you're only offered a part-time job in places you don't picture yourself in, use it as a valid place to start and build experiences.
All of these are great additions to your CV and give you talking points in the interview.
Don't Forget Thank-Yous
Despite modern society's efforts to blot them out, manners are not dead.
If hirers are on the fence about you and another candidate, a single thank-you card can make all the difference.
After your interview, follow up by sending the hiring team a brief letter of appreciation for their time and attention. Whether you snail mail it or send an email, pay attention to one thing: personalization.
No one wants to receive a generic thank-you note that's devoid of any personalization. Make sure to tailor yours to the position and meeting at hand.
This means instead of writing:
"Thank you for taking the time out of your day to meet with me. I learned so much and hope to work with your organization in the future."
You send a note that reads:
"Dear Ms. Smith, Thank you for meeting with me on Monday, June 10. I enjoyed learning about how XYZ Corporation runs its current digital agency as well as the exciting projects it has in the works for 2019."
See the difference? In one, a hirer is a mere number in a string of would-be bosses. On the other, he's a personal connection that the applicant remembers.
A single thank you goes a long way.
Get started
We've all got to start somewhere which means knowledge and education are a must: if you showcase a working grasp of the fundamentals as well as an understanding of relevant market trends, you will give yourself the best possible chance of success in digital marketing.
Once you've gained a solid digital marketing skillset, you will no doubt want to get out there and find the job of your dreams. But we suggest you start small, in other words freelancing. Yeah, we know freelancing has its can of worms, but we're not talking about quitting your job and starting a full-time consultancy here. We're just talking about gaining experience in the fields you want to learn more about so you can move into your next job.
10.Read. Always keep reading.
Read! Read books, blogs, articles, etc. Listen to podcasts and watch webinars. Network. Work on your communication skills. Books are crucial to forming your marketing mindset. Reading marketing blogs can also be beneficial to you — you get to see what the current trends are, other people's perspectives and get to see where companies succeed or fall short.
To quote Sherman Alexie "If one reads enough books one has a fighting chance. Or better, one's chances of survival increase with each book one reads."
In closing, the digital marketing outlook is one that prospective employees can look to with confidence. If you've been toying with the idea of entering this industry, you've chosen a smart time to get your feet wet.
To land your dream marketing job, don't be afraid to start small and sweat the details. From there, you can polish your online presence, tweak your CV, learn about new trends, and make a statement at your interview.
It might not be easy at first, so if you need help finding the necessary toolset and knowledge for your new career, let us know. That's where we come in! We are always just a button away.
Here at Odigital academy, our team of vibrant creative, experienced digital marketing specialists will help you to navigate and learn the prowess of digital marketing, setting you apart from thousands of other digital marketers, making you qualified to get that dream job of yours as a digital marketer. Just give us a try and you will end up giving testimonies about us.
So, what do you think about our list? Give one or five of them a try and let us know in the comment how it went for you.