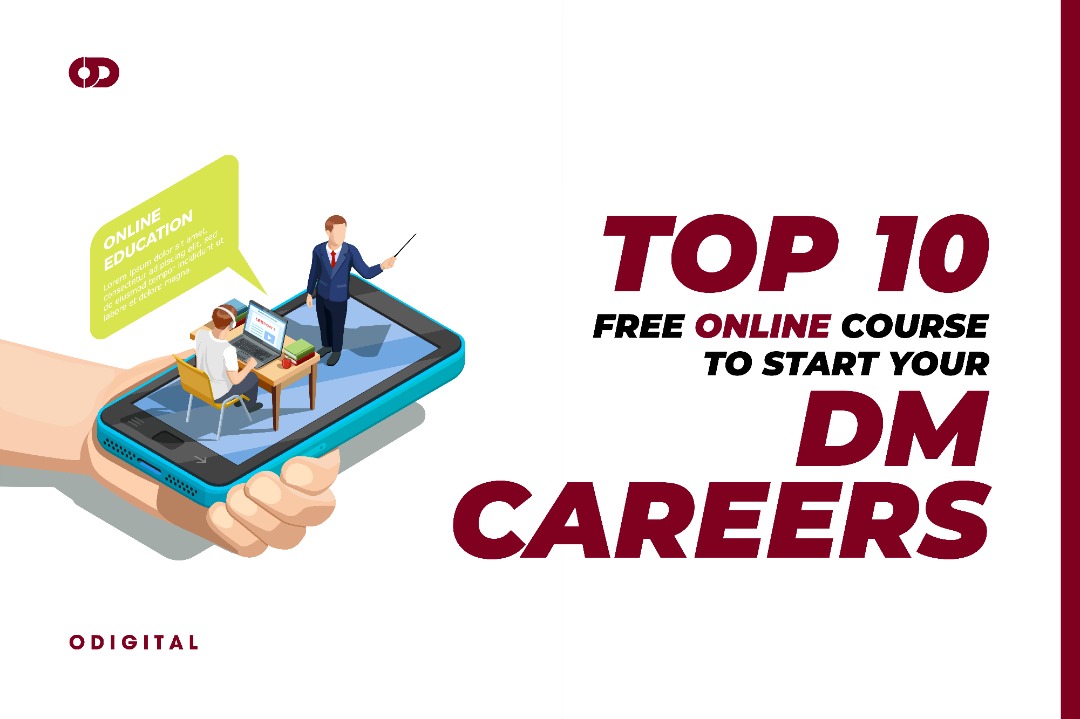 Business
Top 10 free Online courses to start your DM Career
One of the best ways to teach yourself digital marketing is to follow an online digital marketing training course. A good course will help you build the skills that are desirable to become a successful digital marketer fast and boost your career.
Digital marketing skills are essential not just for digital marketing professionals but for anyone working in a business with an online presence. This includes entrepreneurs, marketing managers, marketing specialists, and small business owners.
If you search Google for 'Digital Marketing Courses' you'll find tons of courses covering various digital marketing disciplines. For instance, there are courses that focus only on SEO or social media marketing but they don't offer you a comprehensive knowledge of all digital marketing channels, which is where we come in. The aim of this article is to show you various complete digital marketing courses that cover a wide range of digital marketing concepts. The list includes different types and levels of courses suitable for beginners, intermediate and advanced users. And like we said earlier, most of them are free and you can get started right away and boost your digital marketing career.
In this post, you'll find the best digital marketing courses available online. The list includes both Free and Paid digital marketing training courses from reputable organizations. So let's begin.
SEMRUSH Academy (Free with Certification)
SEMRUSH is the company behind one of the most successful digital marketing tools. Apparently have a successful digital marketing tool wasn't enough. To serve their users and audience better, they created an academy with a number of free digital marketing courses. Their courses cover all digital marketing disciplines such as:
SEO
Content Marketing
PPC
Affiliate Marketing
Social Media Marketing
The course's main language is English but many of the courses are also available in Spanish. Registration is free and upon completion of the course and the exams, you get a certification. The course material includes both Video and text and all courses are taught by reputable digital marketing professionals.
The pleasant thing about these courses is that they are taught by industry experts and besides explaining the diverse concepts, they also teach you how these concepts can be applied in practice. In addition, you'll get to learn how to use SEMRUSH appropriately and this can increase your odds of running successful digital marketing campaigns.
LEARN MORE ABOUT THIS COURSE
Simplilearn Digital Marketing Specialist (Paid with Certification)
This Digital marketing course is offered by SimpliLearn and covers a number of Digital Marketing disciplines and tools. It is a course for beginners, with the course, you will learn:
SEO
Social Media
Pay-Per-Click (Facebook and Google Ads)
Conversion Optimization
Web Analytics
Content Marketing
Email Marketing and Mobile Marketing
The Digital Marketing Specialist course is a premium course and comes with a premium price of $1,499. Yeah we know it's very expensive but if you can pay for it, it is certain you will get your money's worth back.
The good thing about this course is that it has walkthroughs of more than 40 digital marketing tools so by the time you complete this course, you'll have a very good idea of what tools to use in your digital marketing campaigns. Also, besides getting certified for this course, it prepares you to pass and get certified for Google Ads, Facebook, Google Analytics, and YouTube.
If you are working for a company and want to convince your boss to invest in a Digital Marketing Course, then this is a very good option from a trusted company.
LEARN MORE ABOUT THIS COURSE
ClickMinded Digital Marketing Course (Free and Paid with Certification)
ClickMinded is a company co-founded by Tommy Griffith. Tommy is a veteran SEO expert and SEO trainer. He has done SEO work for major companies like Paypal and Airbnb, so he has the experience to back it up.
They provide a number of online marketing courses covering several marketing channels and a digital marketing course bundle that has everything you need to know to become a digital marketing specialist. In particular, their digital marketing training covers 7 topics:
Social Media Marketing
Content Marketing
Email Marketing
Paid Advertising
Sales Funnels
Google Analytics
Search Engine Optimization
The great thing about the Click Minded bundle is that every course is taught by professionals who are actively working within the industry, so you get an innate knowledge of what actually works and what doesn't from experts.
You can register for free for their Digital marketing masterclass but to gain full access to the bundle, you've got to pay $1997 (once-off fee). All courses come with a certificate and a 14-day money-back guarantee.
Here is a tip: While the courses are offered at a discount (the normal price is listed as $6,979), you can get it with a further discount by registering for their masterclass course. After you register for the free course, you will get emails with better discounts on the paid courses.
If you are keen to spend the amount, there is absolutely value to be gained from this course. If you already know the basics and worked through Google Garage, you can use this course to go deeper and explore all bits and pieces of digital marketing.
We also recommend registering for their newsletter as they provide high-quality content (on various digital marketing topics) through their blog.
LEARN MORE ABOUT THIS COURSE
Udacity Digital Marketing Course (Paid with Certification)
Another premium digital marketing training course is Udacity's Digital Marketing program. It covers everything you need to know to become a digital marketer including:
Online Marketing Fundamentals
Content Strategy
Social Media Marketing
Social Media Advertising with Facebook Blueprint
Search Engine Optimization (SEO)
Search Engine Marketing with Google Ads
Display Advertising
Email Marketing
Measure and Optimize with Google Analytics
What is different about this course compared to other online courses is that besides getting access to the course material, you also get access to a technical mentor and a personal career coach and career services, all just for you. This is particularly useful if you are a beginner in digital marketing and need someone to talk to about technical issues and advice on how to build your digital marketing career.
Of course, you don't get the services for Free. To maintain your access to the course material and services, you have to pay $399 per month. And it is estimated that you will need at least 3 months to go through the material. But it's worth it. Especially with the part where you have your very own coach.
LEARN MORE ABOUT THIS COURSE
Alison Free Diploma in E-Business (Free)
Alison is a colossal online learning community with more than six million registered users, with standards-based and certified courses offered that is absolutely free. Developed by free online courses pioneer Mike Feerick, Alison was founded in 2007 and was the first MOOC (massive online open course) provider.
Today, you can take the free digital marketing course Diploma in E-Business to build skills in:
Search optimization
Google Analytics and AdWords
Campaign tracking and integration
Revenue metrics analysis
Digital measurement, and more.
Alison is a decent one-stop learning environment for digital marketing.
LEARN MORE ABOUT THIS COURSE
Copyblogger Online Marketing Course (Free)
One of the most successful websites on Internet Marketing, especially when it comes to content writing is Copyblogger. Brian Clark is the author behind copy blogger and the inventor of the most successful WordPress framework, Genesis.
Although copy blogger, studio press, and Genesis are now a part of WPEngine, Brian's free Internet Marketing course is still a great resource to learn how to write great content.
This course is delivered through email and downloadable ebooks and the best part is it's free. All you have to do is register using your email address.
Writing great content is indispensable for the success of any digital marketing campaign. Whether it's ad copy, articles, or landing page copy, you need to learn how to write engaging content and this course is a great place to start. It is suitable for both beginners and advanced users.
LEARN MORE ABOUT THIS COURSE
HubSpot Online Marketing Courses (Free with Certification)
Another option to learn digital marketing online and get certified from a renowned company is Hubspot Digital Academy. Hubspot is one of the frontrunners in the digital marketing industry with a range of tools including CRM, SEO tools, content marketing, and sales.
Hubspot's Online Digital Marketing Courses cover the following topics:
Inbound Marketing
Content Marketing
Email Marketing
Social Media Marketing
Contextual Marketing
Registration is Free and you get a recognized certification upon completion of the course.
Besides the above courses, they also offer a number of courses (without a certification) that cover Search engine optimization, blogging, Facebook ads, and other online marketing channels.
Even if you don't want to use HubSpot's tools in your marketing campaigns, they did a really good job with their online courses. All courses are taught by experts like Sujan Patel and Matthew Barby, who are documented digital marketing professionals with years of experience in the industry. The learning environment is straightforward and easy to use and the courses are free.
LEARN MORE ABOUT THIS COURSE
Udemy Digital Marketing Course (Paid with Certification)
Udemy is one of the biggest online learning platforms. They provide courses on a number of subjects covering all areas of digital marketing from SEO to Google Ads and Sales.
One of the courses that cover Digital Marketing in detail is the Complete Digital Marketing Course Bundle that includes 12 courses. Topics include:
Market Research
WordPress Setup
SEO
SEO Writing
YouTube Marketing
Google Ads
LinkedIn Marketing
App Marketing
Email Marketing
Google Analytics
Social Media Marketing
Facebook Ads
The course comes with a digital marketing certification but it's not free. The price is $199 but you can get it at a lower price if you are patient enough. All you have to do is sign up with Udemy, add the course to your wish list, wait for a discount period and see if you can get this course for a reasonable price and not $199.
Even as a beginner, you can still get a very good idea of how the different marketing components work since it covers everything from website marketing to social media promotion.
LEARN MORE ABOUT THIS COURSE
Google Digital Marketing Courses (Free with Certification)
Google has an online course platform (Digital Garage) offering free courses on a number of subjects related to career or business development.
One topic that is covered in detail in Digital Marketing training. In particular, Google offers the following online marketing training courses:
Fundamentals of Digital Marketing which includes a digital marketing certification.
How to start an online business.
How to make sure customers find you online.
How to promote a business with online advertising (Google Ads).
How to expand a business to other countries.
Mobile Marketing.
Promote a business with content marketing.
Social Media Advertising.
YouTube Course which Includes certification.
All courses include both video and text materials and some can be completed in 3 hours while others can take up to 40 hours.
The digital marketing fundamentals certification is accredited by Interactive Advertising Bureau Europe and The Open University.
If you are new to digital marketing and want to get a good idea of what digital marketing is and how the different components work together, then this is a good course to follow.
The certification is also globally recognized which is a great way to boost your career.
LEARN MORE ABOUT THIS COURSE
Odigital ( Free and Paid)
This is us. Odigital's digital marketing program was created to expand your skillset, providing world-class experience with real-world digital trends and marketing strategy, to help equip you with abilities that maximize profits in your business.
Our courses are easy to comprehend with experts that have experience and are willing to guide you through the course.
You will learn from top experts with deep insights in digital marketing, you'll gain real-world experience to be able to work and speak with authority; as exercises are given to offer practical guidance to the core digital marketing approach.
Our digital marketing course includes:
Digital Marketing Fundamentals and Strategy.
Email Marketing.
Social Media Marketing & Advertising.
PPC Campaigns Using Google Ads.
Search Engine Optimization (SEO) and Content Marketing.
Website Optimization and Analytics.
By the end of the program, you'll have the confidence and cutting-edge digital marketing skills that you can immediately implement in your daily business activities.
Anyone can learn our course. It's suitable for:
Entrepreneurs and small business owners.
Beginners and advanced users.
Anyone hoping to create and apply a digital marketing strategy for their organization.
Marketing Managers and Senior Management.
Traditional Marketers and Marketing Executives who are looking to update their skillset.
Graduates looking to step ahead & Career Changers.
We are always here and available for you.
LEARN MORE ABOUT THIS COURSE
In closing, you need to obtain a variety of skills to become a successful digital marketing professional. Digital marketing is not a single discipline but it contains a number of principles that cover all online marketing channels. At the end of the day, when you apply for a digital marketing job, you need to demonstrate that you have knowledge of at least the following:
Search Engine Optimization
Paid Search Advertising (Google Ads and Facebook)
Email Marketing
Web Analytics
Content Marketing
Conversion Optimization
Following a digital marketing course, is one of the best ways to acquire those skills fast. You can then focus on building your real-world experience by either working on your own websites or getting a job in the field of digital marketing.
Most of the courses listed in this guide are free and perfect for beginners. You can check out the courses in the order listed above and enroll in the ones that best fit your needs.