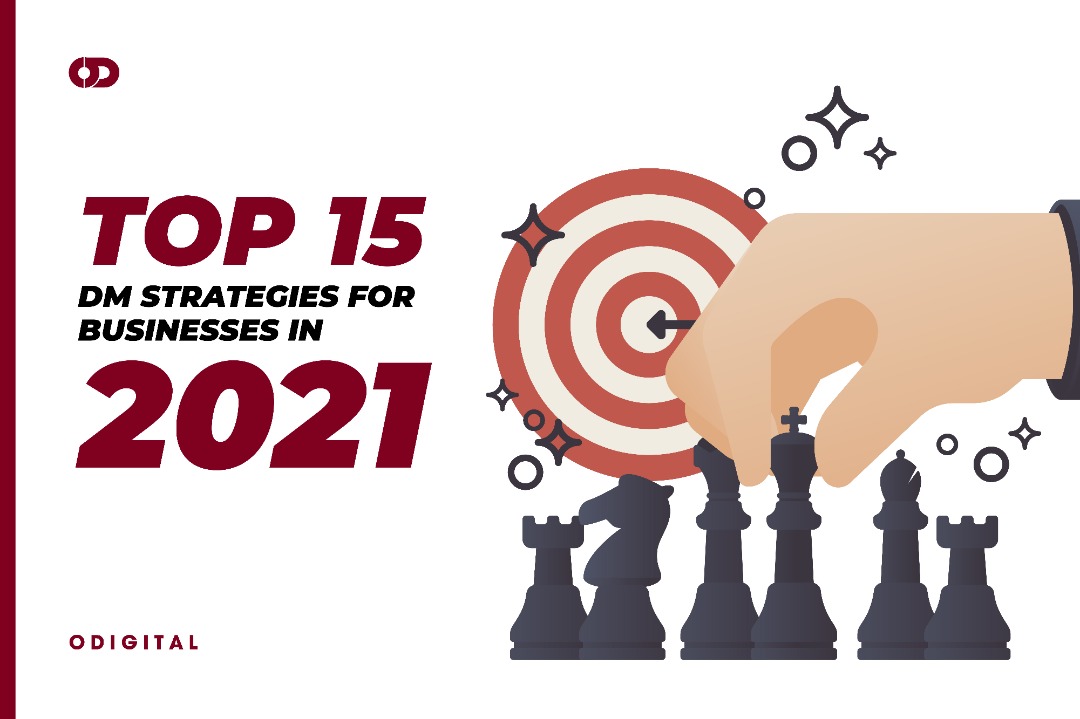 Business
Top 15 DM Strategies for Businesses in 2021
If you fail to plan, you plan to fail. If you want a successful business, then you have to strategize on being successful. In today's world where everyone has access to a phone and the internet, it is important to recognize how important digital marketing is and how it plays a massive role in your business.
No matter the size of your business, digital marketing is very essential and needed, it's one major way of growing your business. However, to achieve this, you need the best digital marketing strategies on your side. And that is what we are going to tackle today.
But before we begin, we would like to explain what A DIGITAL MARKETING STRATEGY is: A digital marketing strategy is a plan that outlines how your business will achieve its marketing goals via online channels like search and social media.
You have definitely seen a digital marketing strategy in work before, just that you might not know it's one. Examples of such strategies can include a social media campaign that involves partnerships with influencers (like the beats by Dre headset when it first came out), a content marketing strategy that uses online guides to drive leads, or a growth marketing strategy that uses social media and email build customer loyalty.
Having a digital marketing strategy always works. Establishing a digital marketing strategy is very critical. Without it, your business doesn't have a map for achieving its goals. You might know what you want to accomplish, but the problem is you don't know how. That often leads to the launch of a digital marketing campaign that fails to drive any results.
So without further ado, here are the top 15 digital marketing strategies that can greatly help your business.
Search engine optimization (SEO).
SEO is basically just you improving your website so that it ranks highly in search engine results for keywords and phrases related to your business. That is what SEO does. The more keywords you rank for — and the higher you rank — the more people will see and become familiar with your website and business. Search engine optimization (SEO) is one of the most effective digital marketing initiatives today. SEO helps direct more traffic to your website from members of your target audience.
To stress the importance of SEO as a digital marketing strategy, consider this:
Less than 10 percent of people online advance to the second page of search results.
Most of the time, when a user performs a search on Google, they don't click past the first page of results. Why? They often find what they're looking for on the first page, which means it's critical that your business earns a spot on the first page of search results.
That is why an effective SEO strategy, as well as our leading digital marketing agency (ODIGITAL), is essential. With our performance-driven SEO services as a part of your online marketing strategy, you can attract more potential clients and earn more revenue.
Pay-per-click (PPC) advertising.
PPC is a paid form of advertising that depends on an auction-based system. With PPC, you bid on keywords that you want your ads to show up for — your ad triggers when a user's search includes your keyword. These ads then appear at the top of search results, above organic listings. And one amazing thing about it is you only pay for the link when a user clicks on it. In other words, you don't pay for ad space — only for the results. For many new businesses that are just getting started with digital marketing or looking for a quick boost, PPC can be a useful online marketing strategy. It propels your website to the top of search results, which can help if your company's organic search result ranking is several pages back.
PPC can include advertising on search engines, as well as social media and other platforms. You can even advertise in apps like WeChat.
Content marketing.
With content marketing, your business focuses on reaching, engaging, and connecting your customers through content. The general goal of content marketing as a digital media strategy is to provide valuable information to your target audience, increase traffic, and generate conversions. Also from a technical perspective, content marketing focuses on improving your content for search engines to improve your visibility in search results.
This content can be videos, blog posts, infographics, pictures and more, and they provide value to users. Though you should know that most content marketing isn't sales driven as it's more informational. For example, if you run a business that sells medicinal drugs, you could write an article about healthy lifestyles or household remedies for sickness like the common cold. With these individual pieces of content, you target specific keywords that will help optimize your content for search engines and users.
No matter what format you choose for your content, it is crucial that it is relevant and beneficial to your audience. You want to produce original and high-quality content that makes the reader want to share it with their friends, families, and other people in their social network.
Want to use content marketing as one of your digital marketing strategies? Then Partner with us at ODIGITAL and boost your revenue. Chat with our team and start building your personalized strategy by contacting us online!
Email marketing.
Email marketing is one of the most effective online marketing strategies available.
Email marketing emphasizes retaining existing customers, as well as gaining new ones. It's an exceptional method for building brand awareness, keeping your business top-of-mind, and encouraging repeat purchases. A core part of email marketing is creating and refining your campaigns, as well as growing your audience. Like content marketing, email marketing also focuses on providing users with valuable information — otherwise, people wouldn't stay subscribed.
The reason for this is, while these consumers may not need your services or products now, they'll remember your brand when it's time to make a purchase. That brand awareness encourages them to choose your company when they're ready to buy.
One of the usefulness of this strategy is that you can also section your audience and personalize your email campaigns. For example, you may create a campaign for users that bought a certain product or visited a particular webpage.
The main objective of email marketing as a digital marketing initiative is to stay at the top of mind for potential customers and provide existing customers with beneficial information that will keep them coming back.
Social media marketing
Social media marketing is simply all about building brand awareness and increasing conversions. The more people know and recognize you, the more they want to patronize your products and services.
A social media marketing campaign can feature one or several social media platforms, depending on your target audience and their platform preference. Some of the platforms are Facebook, Twitter, LinkedIn, Pinterest, YouTube and so much more.
The fundamental goal of social media marketing is to increase brand awareness and conversions, as well as build and maintain your company's reputation. That is why social media marketing focuses on creating informational and promotional content, as well as interacting with users on their various platforms.
If you're inactive on social media, you leave users with limited options for contacting your business. And inconveniencing your clients can lead to low client retention, which will definitely have a direct effect on your revenues. That is why an active presence on social media is important.
With ODIGITAL as your partner, you can always bank on having an in-depth social media marketing strategy that delivers the results you desire. Discover the true potential of your social media by contacting us online!
Voice search optimization.
Voice search optimization is one of the latest digital marketing strategies. The intention is to earn your website the featured snippet in Google search results.
The various voice assistants, from Siri to Amazon Echo, use the featured snippet to reply to voice searches. So, if someone asks, "Where to learn French?" Amazon Echo or Siri would reply with the featured snippet.
Voice search optimization is important. If you're a local business, this strategy is even more cardinal to you, as many users rely on their mobile devices — and voice search — to find a gym spot, salon, restaurant, or hardware store near them.
The goal of voice search optimization is to earn the featured snippet for keywords applicable to your target audience and business. By ranking for position zero, your company increases its online visibility to users, which can lead to product purchases.
With the revolutionized way mobile phones took over and became the norm, it's not surprising that technology associated with it will also become a norm. Voice search is becoming a new — and popular — way to search. As a result, it's one of the newest digital marketing strategies for companies to adopt.
Video marketing
No matter which types of videos you create, you're working to build brand awareness among your target audience. Like social media, email, and content marketing, this brand awareness can lead to valuable conversions. And we are here to tell you that video marketing alone can improve conversions by more than 85 percent and increase brand awareness by 140 percent after a user watches your video. That's an alarming statistic.
The content can be anything, it could be about an in-depth how-to, a product announcement, or even a relaxed behind-the-scenes video.
Video marketing is very powerful, if done right, your videos can influence the purchases made by users. A how-to video, for instance, can convince users that your product is the best fit for their business or lifestyle. If your company invests in influencer marketing, an influencer's video can also persuade users to choose you. We see big companies do this with celebrities. They use a celebrity to endorse their product or service.
Also, it should be noted that pages with videos are 53 times more likely to rank on the first page of search results. With videos to complement your content, you can earn a better rank for competitive keywords, which can result in more valuable traffic and leads for your business.
Branding.
This is also another important thing to factor in. Your branding really matters. It's what attracts potential customers and it can also be one of the reasons why the existing customers stay.
Branding, by definition, is a marketing practice in which a company creates a name, logo, symbol, or design that is easily recognizable as belonging to the company. This helps to identify a product and distinguish it from other products and services.
Branding is very important because not only is it what makes a memorable impression on your potential consumers but it allows your customers and clients to know what to expect from your company. It is a way of distinguishing yourself from the competitors and clarifying what it is you offer that makes you the better choice. Your brand is built to be a true representation of who you are as a business, and how you wish to be perceived.
Branding is very important to a business because of the overall impact it makes on your company. Branding can change how people perceive your brand, it can drive new business and increase brand awareness. Brand identity and brand design language that is uniform and eye-catching across all touchpoints are very crucial.
Creating the correct brand structure helps define your perfect audience, which in turn helps determine how they think, feel, and interact with your brand.
Having trouble creating your Brand? Then why don't you contact us at ODIGITAL. With our skilled professional team members, we can create your brand for you. You think it, we create it.
Company Website.
The company's website should be refreshed every 2-3 years by upgrading to the latest marketing technology because the website is the face of business. Website content strategy aids your customers/audience to know sufficient information and detail of your company. Also, factor in that people spend less time on any website to load. If it takes your website 10 seconds to load, know that you've lost a customer to a competitor. Hence, website speed is important as an entire factor. You don't want to have frustrated customers when they visit your website. If your website is lacking in any way (design, security, content) it could drive away customers from patronizing you.
Conversational Marketing.
You can have the best video marketing strategy or the best content marketing strategy in the world but if you are lacking in this area, you will lose big time. It's like fishing. You have the fish caught in the net or on the hook, and just as you are about to reel the fish in, your fishing rod snaps into two and you lose the fish. Conversational marketing is the rod that reels your audience in. If you don't reply to messages or engage in conversation about your brands, you are giving off an ambiance that you don't really care about them and all you want is their money. And believe me, consumers can tell when you care about them and when you don't.
Conversational marketing facilitates a one-to-one, real-time connection between marketers and customers and unlike traditional strategies, this form of marketing is now available across multiple channels, allowing brands to meet customers on their terms: on the devices, platforms, and time schedules that suit the customer best. Ultimately, the primary goal of conversational marketing is to enhance the user experience through a feedback-driven model that fosters higher engagement and greater loyalty.
When consumers have a question, 82% want an "immediate" response.
Influencer Marketing.
During the course of this article, there have been mentions of how Influencers can directly affect your business. They are very useful when it comes to directing traffic to your business which definitely will lead to conversion and sales. For example, when Elon Musk tweeted about preferring a chat app called SIGNAL to WHATSAPP, the SIGNAL app that same day got a lot of traffic, people all over the world were downloading the app. They saw a 500 percent increase, so great was the conversion that their server or database crashed due to the huge volume of people that downloaded their app. They did not expect such growth at a rapid scale and they've been around for a long time prior to that event. Elon Musk a single man turned things around for them with just a tweet. That's the power of influence marketing.
In a nutshell, influencer marketing involves partnering with well-known people and brands who will then promote your products or services to their existing audience. Influencer marketing is powerful because most influencers have a niche audience that's highly engaged and are very likely to buy the products the influencer is promoting.
Personalization.
"Hi, Mr. Bayo. How are you? We hope you and your family are safe during this pandemic? We at ODIGITAL want to wish you a happy easter. Please remember to stay safe and stay home as you celebrate the festivities. "
"Hi, We at ODIGITAL want to wish you a happy easter. Please do remember to stay safe and stay home as you celebrate the festivities."
Which do you prefer?
If you want to stand out in 2021, you need to personalize your marketing – and that means personalized content, products, emails, and more.
Take a look at Netflix and Amazon, with their tailored recommended products or movie titles. It's like they know what you want even before you know you want that. That's personalization at its best.
Starbucks even adopted this strategy by using a gamified mobile app that draws on data like purchase history and location to get as personal as possible, allows customers to customize their drinks, and encourages further use with its rewards system – which skyrocketed their revenue to $2.56 billion.
You don't need more examples to prove this work.
You need to start implementing your personalized marketing and we at ODIGITAL are always ready to help you with it. Personalization has changed marketing from the bottom up, improving the customer experience, and, in turn, making businesses more profitable
User-Generated Content (UGC)
User-generated content (UGC) is an effective resource for marketers who want to tap into the Millennial and Gen Z markets. What this does is that you encourage your audience to share unique content by offering them an incentive, such as a discount, or even partnering with them for a good cause. You've seen it. You've seen things like "Win this phone once you do a video to my song and tag five friends and also use our hashtags. "
This simple UGC strategy can swiftly increase brand engagement and drive conversion rates as more people discover your brand, and its products and services. UGC can be as rudimentary as blog comments and testimonials or it can take the form of blog posts, images, and videos created by users. In fact, there is a YouTube channel called GoPro's that is entirely dedicated to UGC, showing high-quality videos produced by its customers. The channel is currently pushing 8 million subscribers.
Try UGC out and you might be surprised to see how great it works for you.
Semantic Keyword Research
There's something you need to keep in mind when you're creating content: You are writing for people, not for Google. Creating a 2,000-word post every day is good, but you might not see the results you're hoping for if you don't keep user intent in mind.
User intent or search intent or keyword intent is the main goal that a person has when they type or speak a search query.
Let say someone searches for the best earpiece to buy, if you have content on earpiece, it shouldn't just be on earpiece alone. Invoke reasons why this earpiece is the best, go all science and explain sound waves to them and how your earpiece produces an appropriate sound to the user, use related concepts like headset, music headphones, mouthpiece (most headset have mouthpiece) to drive home your point.
Think about how Google analyzes your content. The search engine doesn't just assess keywords in a search box; it considers the entire content of a query and drills it down to determine the user search intent.
This analysis is called semantic search, and with AI and voice search on a meteoric rise, it's becoming a more central aspect of how search works. Content marketers can leverage this to their benefit by going beyond their primary keyword to include related terms, questions, and phrases in their content. Together, these latent semantic keywords will give Google a much better understanding of the nature of your content, as well as the solutions and benefits it offers to users.
Better Analytics
Modern marketing and metrics go hand-in-hand, so if you're not investing in better analytics, you'll struggle to drive the results you want to see. See, the customer journey is more complex now. We live in an omnichannel age where the average consumer engages a brand on up to six different touchpoints (social media and more) before making a purchase.
With multiple channels to manage and countless ways to market your products and services, the job of analytics tracking is fast becoming a gigantic task. As a result, many companies are looking beyond the basics of Google Analytics for a comprehensive business intelligence solution.
You need to integrate business intelligence as a strategy for your digital marketing. How else will you know what is working and what is not? You might think content marketing is working for you only for your analytics to reveal that video marketing is producing more conversion. You need this.
There are many business intelligence options, both paid and free that you can use to aid you in your business. Examples are Google Data Studio, Metabase, and Tableau.
The purpose of Business Intelligence is to support better business decision making and eventually better decision-making leads to success and growth.
So, there you have it – our absolute guide to 15 digital marketing strategies for businesses in 2021.
As I said earlier, if you fail to plan, you plan to fail. Plan your strategy, test out what works best for your audience, it's not a rule you use all 15, try out what feels best and works well with your business and the audience. Remember one who wakes up to success was never asleep in the first place.
You can take the first step NOW by contacting us on creating a working strategy for you. Our strategy targets your business wants and needs, leading to conversions and success. Contact us and let's bring success to you.