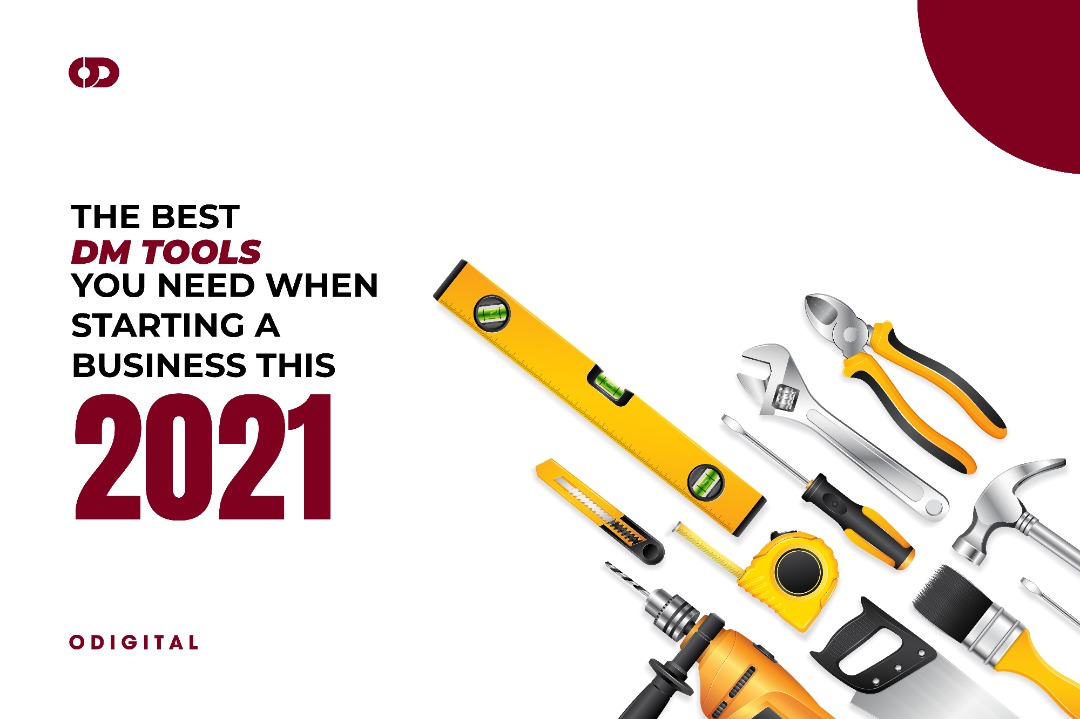 Digital Tools
The Best DM Tools you need when starting a business in 2021.
Effective marketing solely depends on whoever is in charge of the operation. You can easily throw millions away on failing campaigns with only nominal results.
If 2020 has taught us anything with the pandemic, it's that we need to be prepared to tackle any marketing problems that may come our way. Having the proper marketing tools can make or break your marketing campaign. As good as your marketing plan is, you need to have the right tools to implement them. Especially when starting a business in 2021.
So, what are these Marketing tools we speak of? Well, it's simple. Marketing tools are basically anything that companies use to develop and promote their products and services. In this context, the word 'tools 'refers to techniques, strategies, and materials.
Every business out there uses several different marketing tools to boost its sales. It could be for advertising, market research, gathering consumer data, or just organizing what to post on your social media page for the day.
It is important to recognize which tools are best for your business. In other words, which tools you feel you might need to achieve your primary goals and objectives.
Without further ado, here are the Best DM Tools you need when starting a business in 2021.
Google Search Console
This is considerably a must have tool for all digital marketers. Without it, digital marketers should not even think that their task will continue rightly. See what google search console does is that it basically gives the exact pictures of your post and its present position.
Furthermore, it helps to improve your performance on Google search as well as optimize your content. It also helps to quantify the visitors from search to your site. Consequently, the Google search console will inform you if there any issues associated with to your site.
What makes Google Search Console special-
It's free!
It confirms your presence in Google so that Google can crawl your site for rank.
It fixes the problems related to indexing.
It helps greatly to unravel problems related to Mobile usability, AMP, or others that may occur.
It will show you the Google search traffic data for your site, your site appearance of Google site, and which search queries are showing your site.
Rank Math SEO Plugin
If you want to drive more traffic to your website, SEO is the best option. And, Rank Math helps greatly to get this job done appropriately. This is a type of impressive plugin that every website owner needs by all means. It's one thing to have SEO in your website, and it's another thing to have a working SEO that brings traffic to your website. And that is what Rank Math SEO plugin does.
Rank Math makes the SEO job very easy for digital marketers. You feel like you are working with a team when using Rank Math. Subsequently, it also makes your content optimization time shortening. Therefore, you don't need to give most of the time to optimize your content, rather let it be done by Rank Math.
What makes Rank Math special-
Simple user interface- easy to use for all, even for new users also.
It points to 40 SEO factors for the best analysis.
It enables you to use optional 5 keywords.
It can check and fix where Google is facing errors to find your site.
It's mobile-friendly.
It helps you to understand its features by giving you tools tips.
It automatically generates an XML sitemap for your site.
It supports content, article, event, video, local business, recipe, and product rich snipped.
And, what's more? Oh, IT'S FREE!
Google Analytics
Now we love to introduce to you another useful digital marketing tool- Google analytics. It is also very important as well as useful for all digital marketers. It will inform you about which page is working well and which page is not. Relatively, it also marks the content that is receiving attention greatly from the audience.
Subsequently, Google Analytics also enables you to find which Adwords campaign is performing excellently with the locations. For any website analysis, Google analytics is the best option.
On a side note, it is very important that you know that nowadays all digital marketers have to have a working idea of Google analytics. Otherwise, it's will just be a waste of time and money. You don't need to be an expert on it, but being comfortable and a little proficient in it makes you a bit valuable.
What makes Google Analytics special-
It's solely free!
It tracks the conversion of your website.
Reports on the traffic- For instance, how many each day.
It helps to track trends over time.
It is enabled with keyword referral- you can see what keyword people used to find your content.
It also makes you aware of the third-party referral, so you can see from which website you getting traffic.
It offers a custom dashboard- you can add things that you feel are important here.
Hootsuite
Hootsuite is one of many tools mentioned as a "Social Media Management System". It helps you keep track and manage your many social network channels. It also enables you to monitor what people are saying about your brand and assist you respond instantly. You can view streams from several networks such as Facebook, Twitter, Instagram, YouTube, Linkedin and so much more, Schedule Posts in Advance, and can post updates or reply directly.
With so many networks for businesses to manage, it's no surprise that Social Media Management tools have become so popular and relied upon by many companies today. If you manage the updates for your business's social networks, you will likely have heard of Hootsuite.
In a survey from monitoring tool Pingdom, Hootsuite came up as the top Social Media Management System, with over 20% of companies using it to manage their social media empires. If you want to be everywhere online at the same, Hootsuite is the answer.
What makes Hootsuite special-
Monitor Multiple Streams in One Place.
You Have a Team Managing Your Social Media Empire.
Completely Cross-Platform.
Get Free Reports by Email.
Schedule Posts in Advance.
Hubspot
When it involves marketing, sales, and CRM software, you can always bank on HubSpot. It has become one of the top players, a go-to for help and answers. With this software, you have access to tools that help with: blogging, SEO, Social Media, Website, and more. There is no stone left unturned when you rely on HubSpot's all-in-one marketing software. That's why it's a top choice for those that are starting a business. With everything you need in one place, you don't have to pull yourself in many different directions. This will help you to find success in the early days and also help you grow as a digital marketer.
What makes Hubspot special-
Control a lot of things from one command center.
Lead management.
Landing pages.
Calls-to-action.
Marketing automation.
Email.
Analytics
Trello
Trello is a digital marketing tool that helps you to manage projects and stay on the same equivalent page as your team–a sound digital marketing practice if you would like to save lots of time and frustration.
For example, you can share blog posts on Trello before you publish them. This gives others on your team the opportunity to evaluate the post, weigh in with their opinions and make changes that could strengthen the piece before it goes live.
Before the inception or creation of Trello and similar programs, email was the best way to collaborate together with your team. While this is still helpful, to a degree, it can lead to confusion, missed messages, and frustration. With Trello, everything related to your online marketing strategy can be shared in the same place. It only takes a couple of minutes to set up a board. Even better, you can quickly invite your entire staff, all of whom can jump in on the action without delay.
Trello isn't the only digital marketing tool of its kind, but it's, by far, one of the best. When it comes to collaborating with others regarding marketing tasks, this tool is hard to beat.
What makes Trello special-
Understand instantly when a deadline nears.
Mobile friendly.
Instant notifications.
No limit on people invited to a board.
Free. No credit card required for signing-up.
There is no limit on Trello cards.
Google Drive integration.
Dropbox.
DropBox is a critical piece of the modern digital business. It allows all the working pieces of your business to come together in one place to eliminate clutter and save time trying to look for things.
Organization is the key to a successful business, and downloading and sharing files simply doesn't work enough anymore. With more people working from home due to pandemic, you can't have everyone downloading personal company files onto their computers, misplacing them, or potentially abusing them, or worse an unauthorized person with malicious intent could have access to the files.
DropBox prevents all this scenario from happening by being a completely cloud-based document sharing platform that lets you to set permission levels so only certain people you permit can see what they have to. You can also connect other tools like Slack and Zoom to DropBox so you have everything in one place. All company data stays in one place so it's organized, safe, and accounted for.
If you're still manually downloading files to your computer, attaching them to emails, and sending them off into space, you'll find DropBox may be a far more efficient and safer way to keep track of documents and document sharing in your business.
What makes Dropbox special-
Automatic file backup.
Advanced software integration.
Offline working capabilities.
Easy to use.
Completely free.
Share files
Grammarly
Grammarly, as it's named, is all about correcting your grammatical errors. Though it has also other usable options. In fact, we frequently use Grammarly to correct some of our spelling mistakes. This content you are reading seamlessly was edited by Grammarly.
Additionally, it enables you to find duplicate content due to its plagiarism checking features, ensuring your work is 100% original and organic. Grammarly really helps you to be worry-free from a lot of things closely related to your content. Which ultimately leads to a better result on traffic flow to your site.
No one will come to read your content if it is riddled with spelling mistakes and grammatical errors. Thus, Grammarly can act as the proofreader for a digital marketer. Considering all the matters regardless of if you are an expert on grammar or not, you will need Grammarly to create readable content.
What makes Grammarly special -
It's free! Also has the premium version for premium users.
It let you be worry-free on grammatical and spelling-related matters.
Very easy to use- just required a few clicks, and the job is done.
It also helps with the correct sentence making.
With the paid version you can check plagiarism with deep grammatical analysis.
It also works well with Microsoft Office suites.
In concluding, irrespective of the size of your business, you will have to pay some money down in line for some better services. Especially when your business starts to grow. Nevertheless, our goal is to present some freemium tools to you. So that you can make some experience with them and to cope with the digital revolution.
If you like any of the above digital marketing tools for 2021, then please share the article with your social media friends and fans.