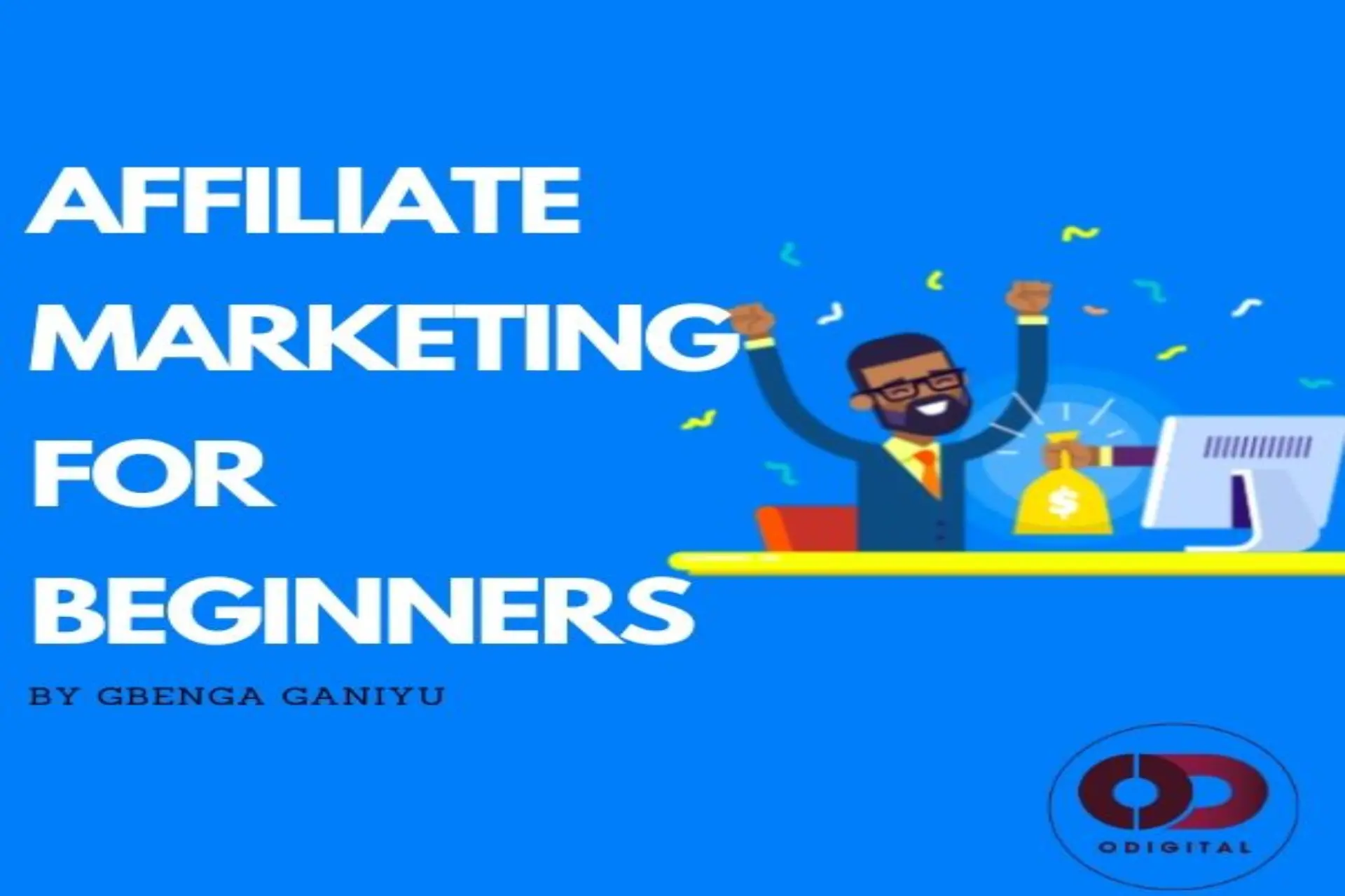 Many people have the misconception that making money through Affiliate Marketing can be quite difficult. Many are of the notion that it's easier to earn through direct sales. However, in reality, there is limitless potential for earning through Affiliate Marketing and we'll like to let you in on a few tips to get you started on your affiliate marketing career.
What is Affiliate Marketing?
Affiliate marketing according to Wikipedia is a type of performance-based marketing in which a business rewards one or more affiliates for each visitor or customer brought by the affiliate's own marketing efforts
Affiliate Marketing simply refers to marketing other people's goods and services for a fraction of the profits when sales are made from your marketing efforts.
You can earn a sizable income as commissions from these sales. Many affiliate programs offer commissions of a minimum of 10% of the sales price. Some offer up to a whopping 50%!
Let's imagine that the sales price of a particular product is $100 and you earn a commission of 20% on every sale from your affiliate link, that means you get $20 per sale. Imagine making 100 sales per month, that means you get $2,000 per month, for a single product!
How do you get started with affiliate marketing? It's simple, just look for merchants who have affiliate marketing programs. Once you find one, sign up for their program and you would receive a unique affiliate link. This is your identifier.
You need to put this link out on the web. Anyone who clicks your affiliate link would be taken to the merchant's website. If they make a purchase, the merchant would know that you were the referrer and would pay you your affiliate commission.
click here to check out our comprehensive article on facebook marketing here
Selecting What to Sell
In selecting what to sell, you need to first find an area of specialization or a niche of products. A perfect example of a niche is toys, and this can be broken further into action figures, drones, remote control cars or barbie dolls. Another example of a niche is beauty products. You can narrow this down to make-up products or hair products perhaps.
Why do you need to find a niche? It's simple: you can't sell something when you're selling everything. You can't be profitable if you don't have an area of specialization. The niche you select must be something you find really interesting or that you have a certain degree of expertise on.
This is a no-brainer as selling a product that you like makes work enjoyable, and as such, you would view your efforts as fun and fulfilling activities rather than as work or labour.
Also, you must select a niche of products in high demand. Despite choosing a niche of products you love, you cannot earn money if there is no demand for the products. There has to be a sufficient number of people who are willing to buy what you are offering.
Finally, the niche of products you choose must have the backing of many companies that offer affiliate programs. All in all, your niche has to be a profitable one with lots of potential to scale and develop.
A great example of a profitable niche is weight loss products. Maybe you find it exciting to help people learn and understand ways on how to lose weight and live healthier lifestyles. Weight loss can be considered as some sort of "evergreen" niche because people would always be interested in weight loss products and as such, they are always in high demand. Another example is pet products.
The pet industry is a billion-dollar industry and pet owners spend tons of money on their pets ranging from buying pet food to buying pet toys and even pet clothing. Pet owners would always be in abundance at any given time and pet products would always be in high demand as a result.
The key to selecting a niche is finding the right equilibrium between your interest and its potential to earn. You need to focus on topics that you love, and that are marketable at the same time.
Planning Your Business and Staying Focused
A very basic pitfall to avoid as an affiliate marketer would be trying to do so many things at once and enrolling in many affiliate programs, in different niches, at the same time. This often leads to loss of focus and getting weighed down with tons of meaningless work.
Although many experts recommend launching multiple niches all at once, we disagree totally with this because there is no way you can be organized and focused if you take on too many niches at the same time. We recommend starting with one niche, planning the approach and activities carefully, and then launching the product. Once that becomes profitable, then it is time to move on to the next niche.
You must also have a marketing approach, simply posting products online will not do. You need to have a clear, focused strategy that leaves room for little error, rather than having a gung-ho approach.
We recommend starting a blog and uploading articles on the blog regularly. After mastering your blog, and only after, then you should move on to social media. If blogging isn't your thing, the other alternative is YouTube. You can create video content and upload it on your channel.
The goal is to provide your subscribers with valuable information regularly. Subscribers to your YouTube channel must learn something new every time they watch your videos.
It is critically important to note that you should not attempt to sell the product. Your blog and video entries must teach your audience something. It is in these subject matters that you will subtly insert the product you are endorsing.
Things to Look for in an Affiliate Marketing Program
There are a plethora of really horrible stories surrounding affiliate marketing programs. Some programs do not pay the affiliate and some of them are built on pyramid schemes. If you sell one of these products and they collapse, it can prove fatal for your business as your customers will never come back to you.
You also do not want to be associated with these illegal businesses because you risk getting sued. You want to be involved in legitimate, credible affiliate programs offering high-quality products that will make your customers buy more. Here are a few tips on choosing affiliate programs that are worth their weight in gold.
#1: Choose Products that are of interest to you
Always choose products that lie within the scope of your interests. You don't necessarily have to be an expert, but they have to be based on an area that you really care about. It would be tough to stay motivated if you are selling products that you aren't interested in.
#2: High Quality
Go for affiliate programs and merchants who sell tried and tested products. Do due diligence by reading customer feedback in forums and comment sections where they vote or rate the products. You can track down some of the affiliate members and ask them about their experience through forums. In a nutshell, check the credibility of the affiliate product you wish to sell or the affiliate program you want to join.
#3: Choose a Growth Market
Go for affiliate products that are growing in demand. This ensures that you will make more sales and get more referrals. You can do this by checking reliable feedback and looking at the sales stats of the product you wish to sell.
#4: Choose a Good Compensation Plan
Always make sure that the amount of money you stand to earn in commissions will compensate for your efforts. A 5% commission isn't worth your efforts unless you're selling something like real estate for example. A great choice is a product that pays out between 25%-40% in commission.
#5: Read the Fine Print
Some affiliate programs advertise astronomical sales commissions, however, they also require sales quotas. You need to ask yourself if the quota is attainable as some targets are just too difficult to achieve. Check the prerequisites before you sign up, and evaluate carefully if these quotas are achievable within a short period.
#6: Choose Programs That Offer Tools
Finally, go for affiliate marketing programs that offer tools like a dashboard of your sales and other relevant statistical tools. Not all affiliate programs allow such visibility on statistics and this makes it difficult for you to track your progress or make decisions.
At the very least, enrol with affiliate programs that provide you statistics on your current sales and current compensation. Choose programs that allow you to check your current sales performance anytime and with ease.
Common Affiliate Mistakes
Many affiliates do not reap benefits from affiliate marketing because of some vastly common mistakes.
Number 1: Choosing the Wrong Affiliate or Product
Do not join an affiliate marketing program just because a company offers it. Just because they're offering an affiliate marketing program doesn't make them credible and reliable. Also, do not join the bandwagon with products that are might eventually turn out as one-hit-wonders just because of the hype surrounding them and because they are flying off the shelves.
Choose products that are in demand even without any hype. Choose products that interest you and would still be there even if it takes you a while to plan and get your website, blog or YouTube channel going. Conduct your research and see if they are in demand. It's easier to promote products you believe in rather than products you care less about.
Number 2: Joining Too Many Programs
You might think that there can be nothing to lose by joining too many affiliate programs, especially if your first affiliate program turned out to be successful. Earning easy money through numerous affiliate marketing programs can be tempting, but you may soon find yourself drowning in a lot of work.
Maintaining the quality of one website and its contents is arduous enough, let alone managing multiple sites. The proclivity is that you lose focus on the same affiliate programs that have earned you money. You certainly won't realize the maximum potential of a program if you are out of focus.
The best way to shield against the temptation of enrolling in too many affiliate programs is to get enrolled in a program that pays like 30%-40% in commission. This will yield you a reasonable profit if you concentrate your best efforts and keep consistently focused.
Number 3: Not Experiencing How the Product Works
Don't choose a product to sell without trying it out yourself. As an affiliate, you are primarily endorsing someone else's product and service and as a result, you cannot highlight the qualities effectively enough if you haven't tried it.
It will be easier for you to sell a product or service if you have experienced it firsthand. Then, if the product is bad, you will spare yourself the wasted effort of selling something that people wouldn't buy in the long run.
Trying products yourself will give you a personal experience, and you can honestly point out the advantages and disadvantages of the product you are endorsing. Your customers will see and feel the genuineness in your blogs and the sincerity in your sales pitches.
You would be able to drive sales because your customers' expectations are set properly based on your strong credibility. It would be near impossible for you to make outlandish claims about the product and then end up having terrible reviews.