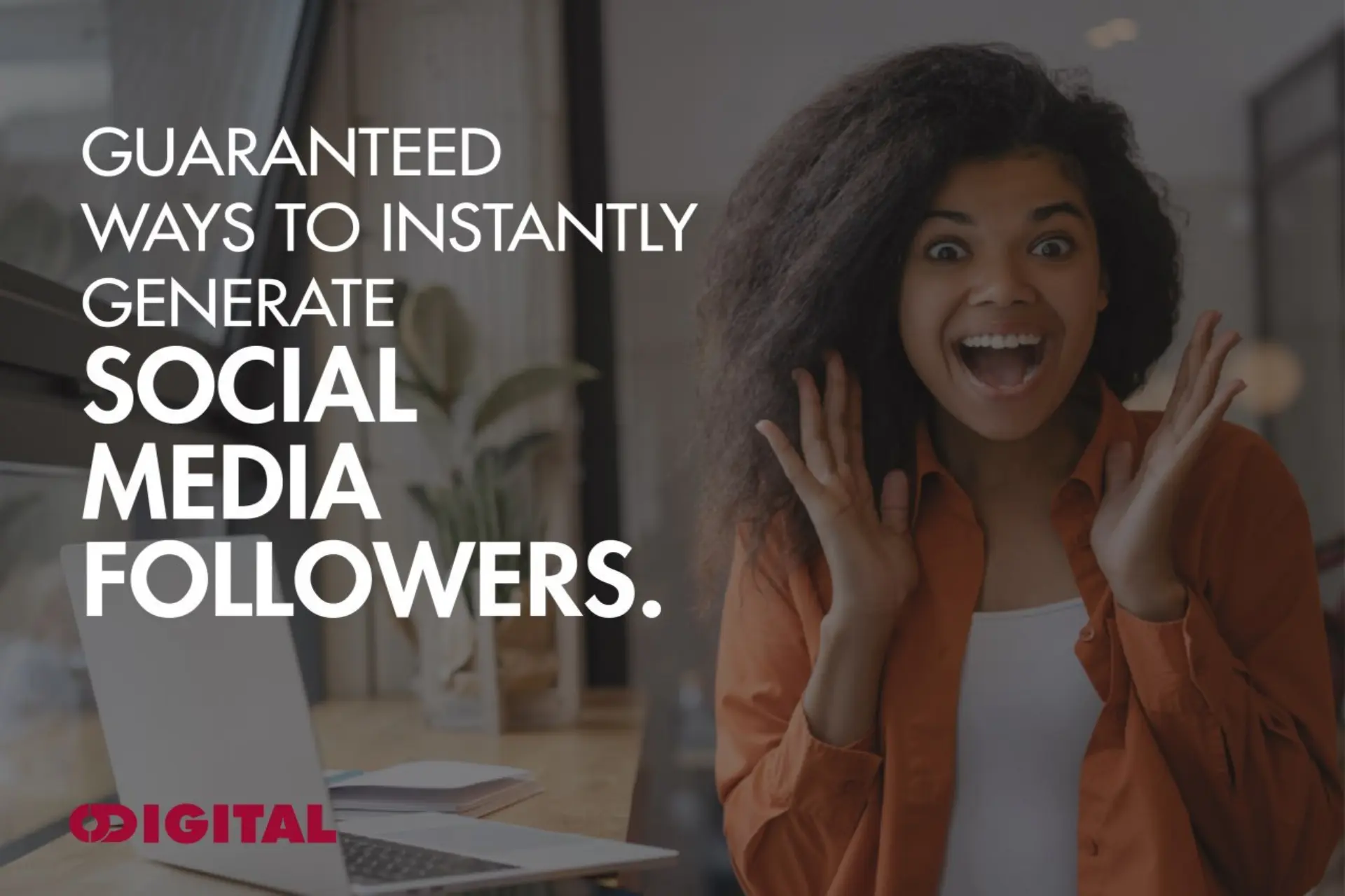 Social Media has accumulated billions of users worldwide and it is the driving force behind brands today. For an entrepreneur, your followers are the lifeblood of your brand, and for your brand to be a success, you need to do all you can to generate followers, and loyal ones at that. Increasingly, the overall marketing strategies of top companies consists of strategies to get more instagram followers and generate followers on other social media platforms as well. Here are some of the most helpful recommendations on how to make this possible:
Market Yourself
Obviously, the very first thing to do to get followers is to encourage and persuade people to follow you and what better way to do this than to simply "ask them to follow you". It is paramount to make your page available on social media so enthusiasts don't waste to much time before clicking "follow". This can be done in ways such as:
Add links in your profile that will lead directly to your website's homepage.
Express the desire to connect with your subscribers by sending emails that are relevant and useful.
Include links to your social media profile in your email signature.
When you distribute business cards, make sure that you incorporate your social media profile usernames.
Appropriate Setting up of Profiles
It is important to reflect on a lot of things when you are initially setting up your profiles to generate followers on your social media platforms; here are some important aspects to consider:
SOCIAL NETWORKING SITES TO BE USED People are currently on the craze of jumping on the bandwagon and trying to be in almost all social networking sites because they want to just get followers online. This is not actually advised, because, monitoring and maintaining the number of followers would be a daunting task. Instead, choose the ones that are relevant to your brand and will aid its growth. Some of the most dominant sites are Facebook, Twitter, Pinterest, Instagram and LinkedIn; Whichever direction you want to take your brand, there are social media platforms that will help you achieve that aim. And your job is to select them.
ESTABLISH YOUR PROFILE NAME It is advisable to use the same name across all your social media platforms to enable your prospective followers to locate you easily. This way they can search a particular name across platforms and locate your profile with ease.
USE ONE UNIQUE AVATAR. Your avatar is your unique identity. It is an essential ingredient in the creation and authentication of your brand and it is important to create a unique one that is exclusive to your brand alone. It is also very important to make sure that you have the same avatar across your social media platforms. Since the avatar is your identity, DO NOT LEAVE IT EMPTY.
PROVIDE A DETAILED BUT CONCISE DESCRIPTION. Provide your followers with clear descriptions of what your business is about, the services you render and what they stand to gain by following you. This way, they will be interested in your brand and what it has to offer.
Social Media Page Automation
Social media is not self operational, i.e to make a post, upload a picture or drop a comment, you need to log in. But, there are fail-safe ways to automate your social media page; you can make use of services like the HOOTSUITE, BUFFER and CONTENT STUDIO to schedule posting of images, links and text posts based on your chosen date or time. WordPress plugins may also be installed so that it automatically sends blog post links.
Automation greatly helps in establishing a powerful social media presence because through automated posts your brand reaches more people even when you are not logged in 24/7. It is also important to make time to share contents from other people that share yours and to log in and interact with your followers.
Follower Engagement.
A brand page does not have to be run by the owner. Having a team to handle the commenting and posting on social media would help a brand generate followers rapidly while increasing the brand's reliability. People prefer it when actual humans reply to their comments and messages rather than automated replies popping here and there. It's called social media because people interact with other people and not with bots.
On Social Media, it is important for brands to note that they are not only selling their brands, they are selling themselves and their businesses. Customers are very interested in the person behind the business, they feel more comfortable when they know a real person is handling them. It is also important to reply to queries and complaints as quickly as possible. This solidifies their trust and reassures them that they are valuable to you and your brand.
Support Other users contents through liking, sharing and commenting on them.
Spend time engaging on other people's posts by commenting, liking and sharing them. This helps to generate followers and increases follower engagement by;
People like to know that you took the time to interact on their post by commenting and sharing. When this happens, they'll most likely return the favour thereby increasing your followership and increasing your brand reach.
Interacting on people's content and seeing them in your feed will keep you up-to-date on what's new and trending in your industry. It will also give you insight on what to post to generate followers and increase engagement for your brand.
Post Important and Engaging Content on a Regular Basis
You will get followers to your page, and people will engage and share your posts when it is relevant and valuable. It is important to create a steady posting scheme with interesting and important content. To generate followers and remain relevant in the minds of your followers, you need to constantly post important and valuable content and remain in their faces. Followers need to see constant activity on your page or else they will lose interest in following you. So, to remain in the mind of your followers, and to keep them engaged, you need to post regular engaging content.
Generate Followers by Paying for Exposure
Another way to increase your brand's reach is by paying for exposure. This broadens your reach and expands your brand's horizon. Having your brand reach more people is great in acquiring followers and potential customers. Paying for ads is another great way to boost your post and in turn bring untold opportunities for your brand. With targeted ads, you get well-targeted audiences that are actually interested in your businesses and aren't just following you randomly. These new targeted followers will make a good addition to your email marketing list.
Mention Other Companies
If you want your brand to gain more exposure, link other companies' profiles appropriately when you mention them on your posts. In turn, these companies will share these posts on their websites and give you more exposure to their audience. This, in turn, will generate followers for your brand. This is the company reciprocating your acknowledgement.
Inspire Emotions to get followers
Your content should not be bland. They should inspire emotion, especially humour. This will make your post more interesting and will be shared and interacted with more. Thereby helping you generate followers rapidly.
Differentiate between the personal and professional.
We have talked about making your page personal, but this is different You should understand that your brand is your brand and your personal life is your personal life. You should never mix both as that could be catastrophic. You should keep your personal opinions, ideologies, views and preferences away from your professional page. You should only post things relating to your business and view that are generally accepted, or in trend as that is why people follow you. Personal views should be uploaded on your personal and not your brand account.
Conduct some Analytics to Mark your Progress in Social Media
It is paramount that businesses track their progress even on social media. Measuring the progress or regress of your business is important in developing new methods in increasing the number of followers and ultimately expanding the business. These new methods will increase your followers and these new followers should be closely monitored. You should also track the activity on your website and optimize them to increase the success of your campaigns.
Post Blogs about Popular brands with related or the same niche as your business
Creating important and optimized blog posts on popular websites and brands and linking them on your social media profiles. This will get more people interested in your page when they understand that you're not only interested in selling your brand only, that you can also share valuable information to your followers. Also, referencing and posting about other sites will also increase your credibility.
Prioritize the interests of your audience.
Do not post blindly. Something interests you does not mean it will interest your audience. It is important to research and study social media veterans in your field and take notes from them. Study trends to help you decide posts that gain more interaction and integrate those into your contents.
Attract people with incentives
Enticing people with incentives is one of the best ways to attract them to visit your page and websites. People love coupons, discounts and freebies. This is a sure way of people follow you. But it is important to make sure you come through on all your promises do not make scammy promises. Make claiming incentives easy so people don't lose interest and unfollow you.
There are tons of way to generate followers for a business, but these are the proven ways to increase followers and open a pool of possibilities for your brand and businesses.
To learn about more strategies to grow your business online through social media, check out our post on 10 amazing social media strategies that will help you grow your business online.
Click here to join our Social Media Advertising Bootcamp.