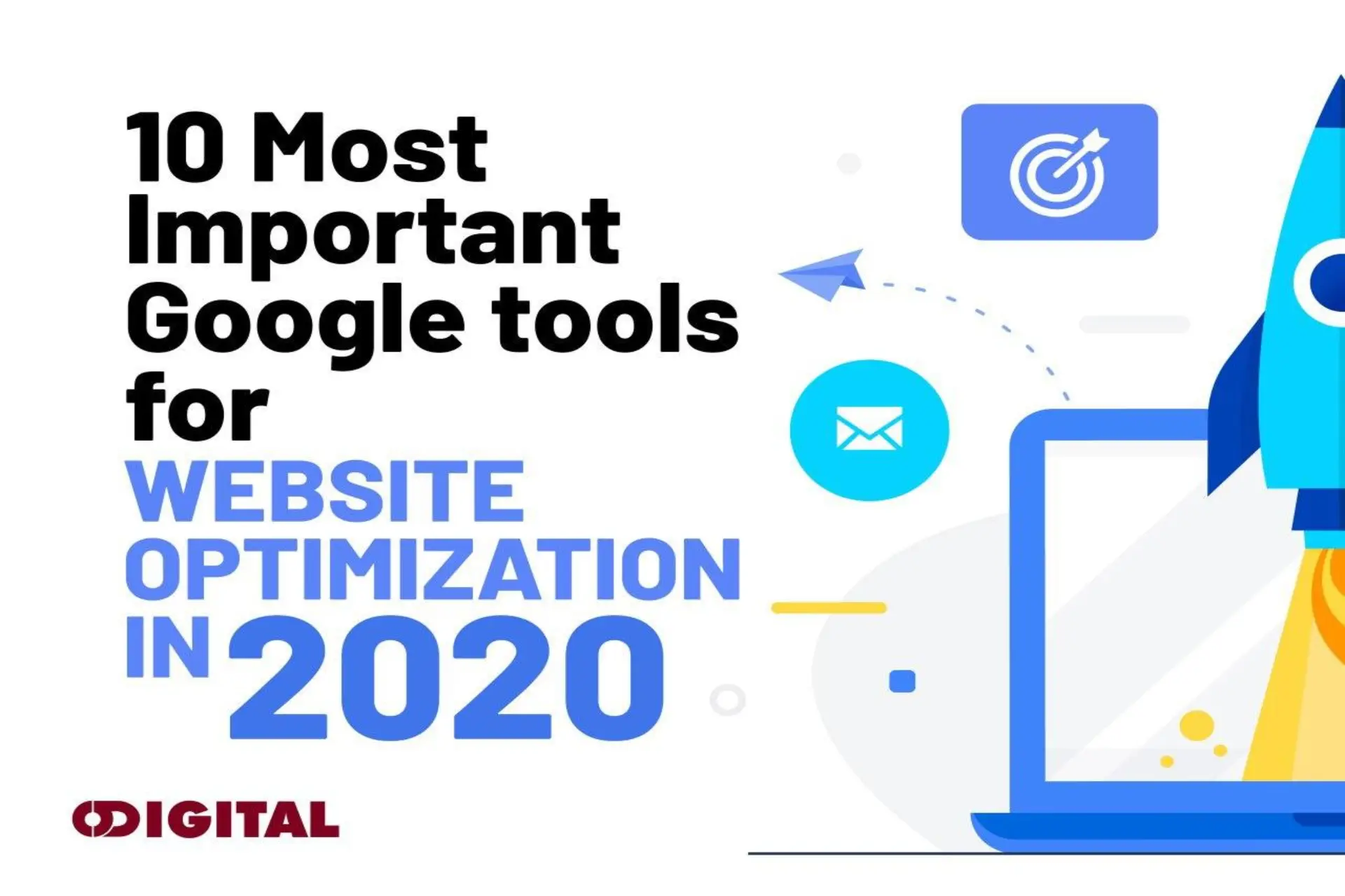 Digital Tools
10 Most Important Google tools for Website Optimization in 2021
Why you should use Google tools for Website Optimization
It goes without saying that every business that is looking to improve its reach and reel in more customers has got to have an online presence. Having a well-built, fully functional website that is properly optimized to suit your business processes forms the core of this.
Without further ado, here are 10 extremely important google tools for website optimization.
Google Analytics
The importance of tracking business/website data cannot be overemphasized. Without proper data to track website and business performance, websites and businesses, in general, cannot be properly optimized for better performance.
Google Analytics is a website analytics tool provided by Google. Its job is to report and track website traffic. You can track your website to get the most out of the analytical information of your site, better user experience and optimize it for better sales and also improve website content.
Google Analytics is packed full of features, but one of the best features is the ability to know the Source/ Medium to your website. After studying the data shown, you can determine if your marketing is working. This provides pointers on where to work on to optimize performance.
The more you use this tool, the easier it will be to optimize performance. It doesn't matter if you run a news portal, business or corporate page, e-commerce store or a personal blog, Google Analytics is considered an essential tool.
Google Data Studio
It is easy for amateurs to get overwhelmed by the data shown in Google Analytics. When you want a simple report with charts and graphs to express the data performance from your website, Data Studio is there.
Google Data Studio is a free tool from Google that gives you the ability to turn your Analytics data into concise and understandable data via Data Visualization. Data Studio allows you to customize your analytical data and report. It also gives you the ability to share with your clients and co-workers.
Extra tip: Google Data Studio has a gallery that allows you to duplicate their samples and modify your website use. You'll then be able to edit and change the metric to suit your needs.
Google Search Console
Formerly known as Google Webmaster Tools, Google Search Console is a free web service that was designed for webmasters. It gives you the ability to check and optimize the visibility of your website as well as the indexing status.
This free tool is an extremely crucial tool for Search Engine Optimization (SEO). It allows you to track your website's performance and is an essential tool in understanding what your audience wants from your website and how to optimize it to give you the best results.
As soon as your website is tracked by Google, it becomes possible for you to view your organic search results with the performance statistics for the organic search queries. This then helps you understand the way organic search results and paid text ads work.
If you study this deeply enough, you find there are a lot of opportunities like identifying useful search queries that have low organic traffic volume and targeted keywords in Google Adwords. This will then grow your traffic and help you rank better, among other things.
Google My Business
If you operate a traditional face-to-face business, this free tool from Google is a local SEO strategy to strengthen your site. Like Google Search and Google Maps, Google My Business is a powerful tool for businesses and organizations to optimize their online presence across Google.
As smartphones increasingly penetrate the global populace, people now use their smartphones for basically everything: from fast answers to navigation or browsing social media websites. For your business to thrive and remain ahead, it needs to be found online with accurate information.
It is extremely important that the information uploaded about your business online is correct, up-to-date, and accurately reflective of your business. It is also crucial to not forget that this information will appear when people search for your business. Oftentimes we come across businesses with outdated or wrong information online, this is detrimental to the business.
There is a new feature from Google My Business called "Posts". Your published content will show a short description, a display image and a call-to-action link to your intended URL destination.
Google Keyword Planner
Creating website content without keyword research is ineffective and would turn out to be a waste of time in the long run. To be able to reach the right customers with the appropriate keywords, It is advisable to use Google Keyword Planner to search for relevant keywords. Using those keywords in your website's posts will make certain your site's content remains relevant.
*To be able to use Google Keyword Planner, you'll need to sign in to your Google Ads account. http://adwords.google.com/KeywordPlanner. Creating an account is fast and free of charge.
Google Keyword Planner is free and helps you find new keywords ideas that are important to your brand and services. Google Keyword Planner shows you the search volume data in historical statistics, and this is an important feature for your website.
Additionally, the data generated from keywords is a vital tool for SEO for your website. Look over the information and turn it into your next marketing strategy. Depending on the data, you should have loads of ideas on what should be used in your text to make it more useful to your audience.
Google Tag Manager
This is a free tool from Google that helps you update your tags and code on your mobile apps and websites with ease and convenience. You can integrate HTML and JavaScript tags that would be used for tracking and analytics your website. And all this is done without you actually touching the back end of your website.
Lots of websites do not use tracking feature or they have really unreliable data collection due to messy codes injection. To fix this, it is highly recommended to use Google Tag Manager to manage and consolidate your scripts and tracking code.
One of the best examples of using this tool is with Facebook Ads. While a ridiculous amount of businesses are using Facebook Ads, the majority of them do not integrate Facebook Pixel into their website to enable them to track conversions, and for remarketing purposes and optimization.
Google Tag Manager already has Facebook Ads integrated for easy installation. All that's needed from you is to click and follow the guide given without unnecessary and complicated coding.
Test My Site from Think With Google
To rank well on Google Search, your website should load fast and should be mobile-optimized. Test My Site from Think With Google can be used to check your website score and mobile performance. In a matter of minutes, you will receive tips and guides on how to improve your website across all devices.
Nobody wants to interact with non-mobile-friendly websites or slow websites. The proposed time is 3 seconds from Google, this essentially means that if your website does not load completely in 3 seconds, most people will leave your website.
All you need to do to get a detailed analysis of your website is to insert your email address. The content report is simple, but it gives valuable insight into how your website speed is ranked by Google.
This report becomes an integral reference to your webmaster or web developer to help optimize your website. To get more in-depth analysis on how Google renders and indexes your website, you may want to use PageSpeed Insight tool.
Google PageSpeed Insights
If you are a website developer or designer and you'd like to understand the factors to increase your site speed, you may want to try PageSpeed Insights tool and check your website score on optimization and speed.
The latest version of Google PageSpeed Insights lets you see data from your First Contentful Point (FCP), the measurement when a user gets the visual response from the page. DOM Content Loaded (DCL), like the measurement of HTML document, has been parsed and loaded.
These are some website optimization tips from PageSpeed :
Optimize images
Reduce server response time
Prioritize visible content
Minify HTML
Avoid landing page redirects
Minify CSS
Eliminate render-blocking JavaScript and CSS in above-the-fold contents
Leverage browser caching
Enable compression
Minify JavaScript
Google Trend
If you're interested in seeing the latest trends and data from Google, you can search basically anything with Google Trends and it also narrows down to specific categories and countries.
Essentially, when a trend has been identified, you can integrate this trend into new promotions, blog posts and ideas that represent the trend.
You should also remember that you can view the interesting traffic of search using Google trends.
Applying this, you are able to determine the best time to launch more specific campaigns. This is great for annual promotions or seasonal campaigns because you are able to discover the appropriate times for your ad hoc digital marketing campaigns.
Google Alert
If you'd like to be constantly updated on a particular topic or the related news information that floats around in the news, you can have them delivered with Google Alerts and get notified whenever your phrases, keywords or updates have new updates.
Google Alert is great for monitoring keywords. Updates on mentions of specific keywords will be sent to you via mail in real-time. You can also decide the frequency to receive them – daily, weekly or immediately.
Another helpful tip is to be careful to avoid using generic keywords, it is better to create alerts for keywords that are more unique to your website. When keywords are more precise, they provide more relevant alerts. To achieve that, you should use the search filters as much as you can.
In Summary
The above listed Google tools for website optimization would help you track the key metrics that are necessary to ensure that your website is well optimized to help you reach your business goals. What's more, these Google tools for websites are totally free. Make use of these Google tools for website optimization and you would be well-primed to achieve your business goals.
Click here to read our article about 40 Special Digital Marketing tools for Online Marketing
Have you attended our Social Media Advertising Bootcamp? Click here to find out more.